Swiss Cheese Fondue is a popular choice for New Year's Eve and a fun idea after any winter activity. This communal way of dining is ideal for small groups, a romantic dinner for two and even as an appetizer for a larger crowd.
The mere mention of cheese fondue likely conjures up an image of long fondue forks with cubes of gluten-filled bread being dipped into a luscious pot of melted cheese...contaminating the whole thing.
Seasoned celiacs know how to think outside the box. And the fondue pot.
The Swiss invented cheese fondue to use up stale bread and old cheese so I guess they never had any gluten free eaters at their table. I made a loaf of my gluten free Crusty Bread for this fondue but you can create an impressive spread without any bread if you want.
There are unlimited options of what you can serve with melted cheese so pick your favourites and don't worry about any rules. Make beautiful platters or small plates with cooked meat, seafood, raw or blanched vegetables and fresh, canned or dried fruit.
If you do it right no one will miss the bread.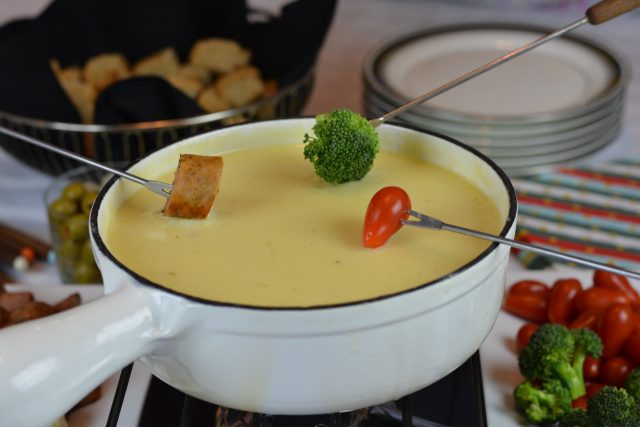 Foods To Serve with Cheese Fondue
Here are a few outside the box ideas of foods to serve with fondue.
A terrific choice for a vegetarian main course or perhaps a first course after a day on the ski hill.
Serve a small fondue as part of a Charcuterie Board and simply serve less cheeses (or none) on the board. Charcuterie cups, homemade or store bought, would be a quick way to put together a fondue night.
Pears Poached in Port would be a fancy addition to any cheese fondue. I'd poach those pears in tawny port but you might like to see what happens when someone dips a piece of ruby red pear into the cheese.
Hot and Spicy Mixed Nuts always go with meat and cheese in my books.
I love salads so I'd go for a small salad served on a platter or individual plates. My two picks would be Cranberry Orange Lettuce Salad or Cranberry Port Vinaigrette on Greens (without the blue cheese).
Plain meats are usually served with cheese fondue but if I had any Chorizo Stuffed Bacon-Wrapped Dates in the freezer someone would get pretty excited about dipping those in cheese.
Fondue Etiquette
The small flame at the table together with the dipping and stirring of food, creates a relaxed, social atmosphere. Each diner is to use their fork to stir the cheese in a figure-eight pattern as they dip. This ritual prevents the cheese from burning on the bottom of the fondue pot.
Technically you should not eat food from the fondue fork (that's double-dipping). You should push the cheese-covered food off the fondue fork onto your plate and eat it with your dinner fork.
With an oil fondue we intuitively know not to put a fork from boiling hot oil straight into your mouth. With a cheese fondue this might be news to someone so just review fondue etiquette before you start.
What Do I Need for Swiss Cheese Fondue
Ceramic Fondue Pots
Although not essential a ceramic cheese fondue pot is ideal. They're easy to find online, in kitchen stores and even hiding in many kitchens. Infrequently used items like fondue pots are perfect for sharing so ask your friends before purchasing one. Using a saucepan will work if you have some type of warming tray to set it on.
Fondue Fuel vs Gel
Years ago fondue fuel was the most popular way to refill the burner that had adjustable vents to control the flame. Fire gel cans are now the easy way to keep foods warm for an extended period of time. Simply light it and discard the can when empty. You can also find these cans in kitchen stores and restaurant supply wholesalers.
Best Cheese for Fondue
This is not the meal for inexpensive cheese. Buy Swiss cheese, imported or domestic, and ideally use a combination of Emmenthal, Gruyere, Apenzeller or Raclette.
Fondue Forks
Long fondue forks come with every fondue pot and are typically colour coded. If you have more than one set you can assign a colour to each diner. In my experience not everyone is good at keeping track of what they put in the pot.
Let me know in the comments below if you tried a bread free Swiss cheese fondue or if you have a old fondue story to share.
Originally posted 2016, updated December 2022.
__________________________________________________________________________________________
New here? Join our community and get your FREE resource, the tips I wish I knew when I started cooking gluten free.
Yes, I need 29 Tips For Cooking with Gluten Free Flour.
Still haven't mastered gluten free cooking? Check out our online Cooking Classes.
Swiss Cheese Fondue
Fondue is a popular choice for New Year's Eve and a fun idea after any winter activity. This communal way of dining is ideal for small groups, a romantic dinner for two and even as an appetizer for a larger crowd.
Ingredients
1

garlic clove,

halved

900 g

Swiss cheeses, cubed

(any combination of Emmenthal, Gruyere, Apenzeller or Raclette)

2¾

cups

dry white wine

3

tablespoon

cornstarch

3

tablespoon

Kirsch or pear liqueur*

(optional)

finely ground black pepper to taste

freshly grated nutmeg to taste
DIPPING and ACCOMPANYING FOODS
BREAD: Cubed, day old gluten free bread, crackers bread sticks and/or pretzel sticks.

MEAT: Cut up cooked Italian sausage and/or cold cuts of your choice.

VEGETABLES: Raw or partially cooked broccoli, cauliflower, zucchini, peppers, mushrooms or cherry tomatoes.

FRUIT: Fresh or canned pear, Asian pear, apple or grapes.
Instructions
CHEESE FONDUE
Rub the cut sides of the garlic on the inside of the fondue pot. Leave garlic in the pot.

Add wine and heat on medium heat until it begins to bubble.

Add cheese in small handfuls, stirring until partially melted. Continue adding and stirring until all the cheese is smoothly melted.

Whisk cornstarch and liqueur until smooth. Stir into cheese mixture stirring until thickened, about 5 minutes.**

Season to taste with pepper and nutmeg.

Place pot of melted cheese over fondue flame. Serve with dipping/accompanying foods of your choice.
DIPPING FOODS
Arrange dipping foods onto plates or platters that will be easy to pass around. Set them out, invite guests to the table then bring in the bubbly pot of melted cheese.
Notes
*Allow 150g (5 oz) of cheese per person.
**If not using Kirsch toss all the cubed cheese with the cornstarch before adding it to the pot.
If you don't have a cheese fondue pot and can't borrow one, serve your fondue in the pot you made it in or transfer it to a ceramic casserole dish that will hold the heat for awhile.