This is a Spanish menu for a Gourmet Dinner Club evening. Finding a date for six or more people to have dinner together is not an easy task but finding a menu can also be challenging.
There are unlimited blogs, websites, cookbooks, magazines and TV shows to inspire you but eventually you need to make some choices. Below is my menu for a Spanish Fiesta.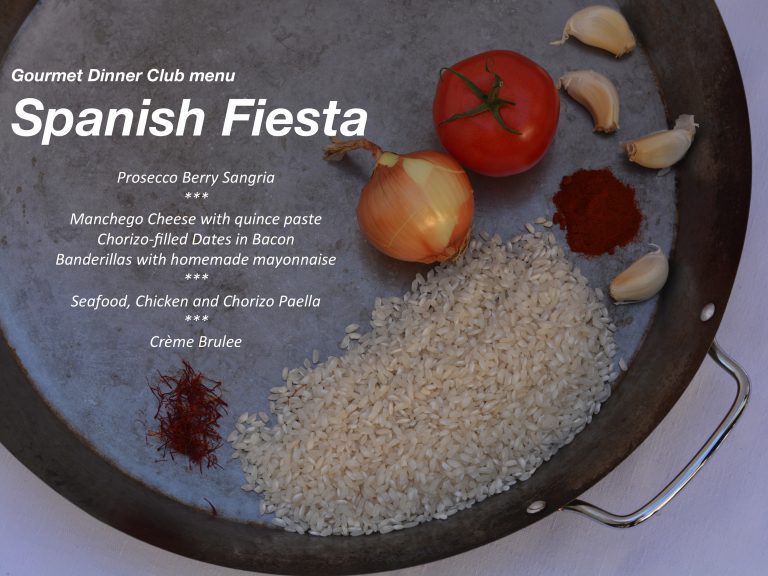 My friends and I fondly refer to our Gourmet Dinner Club simply as Gourmet. We have been meeting since 1988 so have cooked and enjoyed many meals together. We have hosted elaborate five course dinners, menus from around the world including countries we hadn't heard of, Death by Chocolate (where Lisa almost died), tasting menus, garden parties, hole-in-the-wall restaurants and more. The ideas are endless.
Dinner Club Stories
Every time we get together you can be guaranteed someone will have a story to tell. From staying up half the night preparing a dish, driving all over the city for some obscure ingredient, or paying an exorbitant amount for an out of season ingredient (that sounded fabulous on paper); you'd think we have done it all. But no, there is always a new story when we meet again.
We have never recorded our stories but we often retell them. Here are three memorable ones.
There was the time Anja chose a recipe for Vietnamese deboned chicken wings (in retrospect that was the mistake). According to the magazine a woman with perfectly manicured nails showed how easy it was to debone a chicken wing in three simple photos. I don't remember eating the wings but the job took 'longer than expected' and the story of deboning wings has gone down in Gourmet history!
Then there was the dinner I inadvertently held a hot frying pan too close to a carton of eggs. When I swiftly moved the frying pan back to the stove a dozen eggs went flying to the floor. The family dog snuck in and licked up the entire mess before we even knew what happened.
There's also a long story about Jane's ice cream cake (because all of Jane's stories are long). She made the entire cake as directed only to discover that the pan was too wide to fit in her freezer. After calling several neighbours she found a freezer to put the cake in…for almost the required time to freeze solid. Then the journey to my house included at least one wrong turn, a few panic phone calls and a nearly ice cream 'soup' cake on arrival. In the end, the cake froze while we ate and it was a fabulous dessert.
We have learned to appreciate these semi-disaster recipe stories as part of the culinary adventure. For us, trying new recipes and not being afraid of a disaster is part of the experience. Not every recipe is worth repeating but they are always worth trying once.
Dining with Dietary Restrictions
Anyone with dietary restrictions knows the challenges of dining out so make that a reason to dine in. If you like this idea you may want to read my post on organizing a Dinner Club. I'd love to hear about your culinary adventures and let me know if you tried this Spanish menu.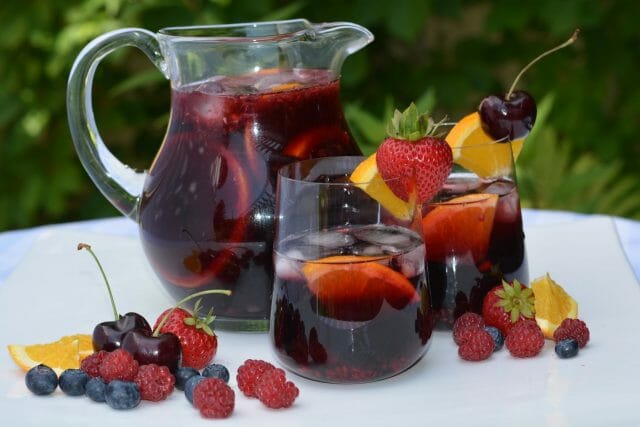 Dinner Club: A Spanish Menu
A Selection of Tapas
Manchego Cheese with Quince Paste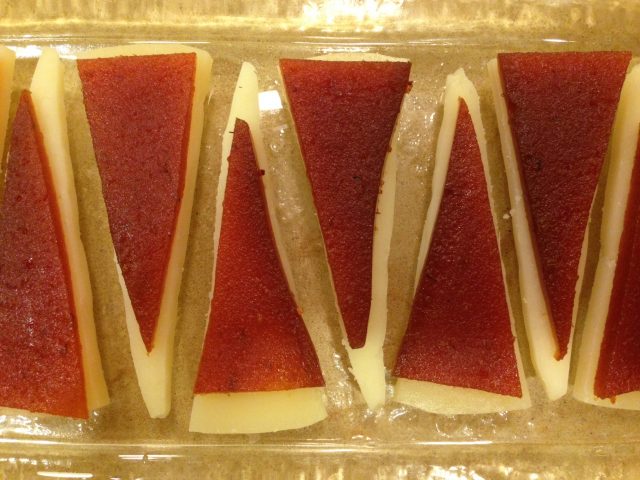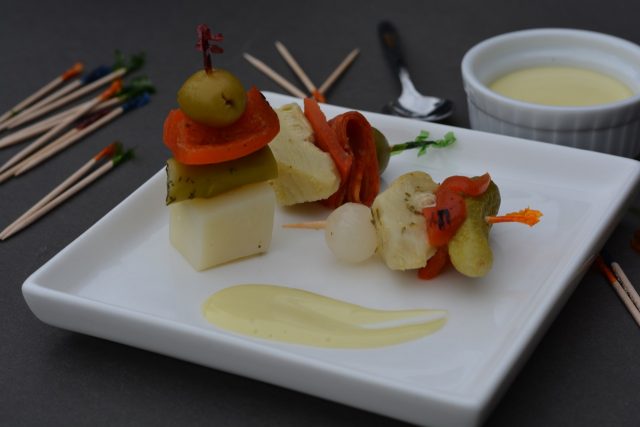 Chorizo-Stuffed Bacon-Wrapped Dates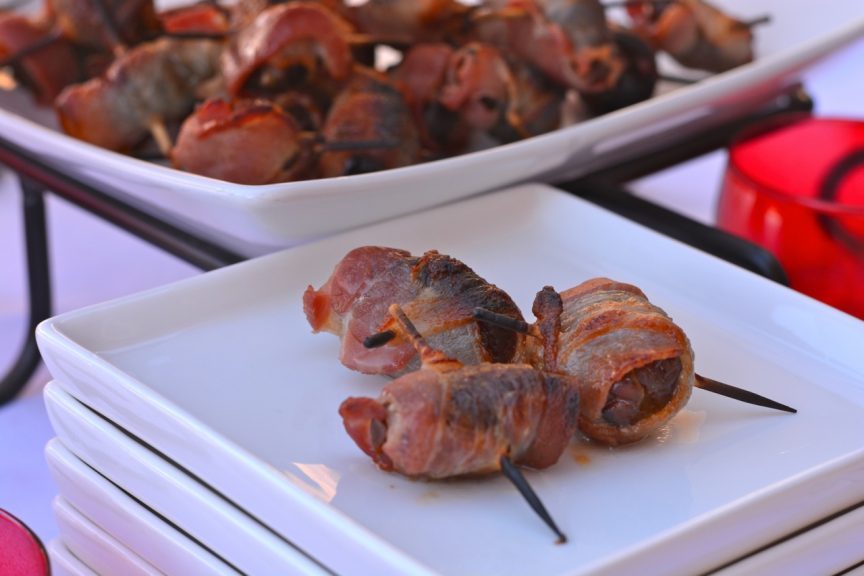 ◊◊◊
Seafood, Chicken and Chorizo Paella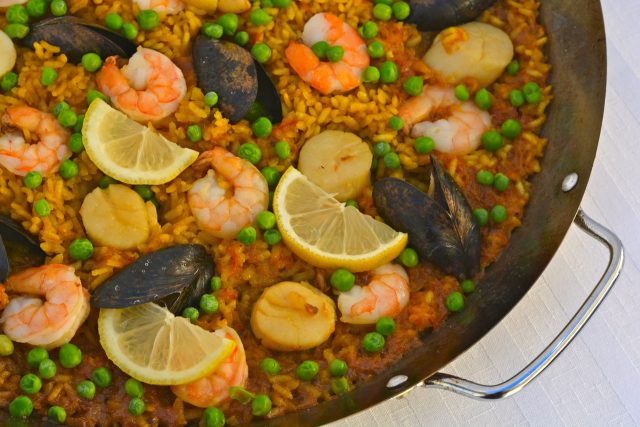 ◊◊◊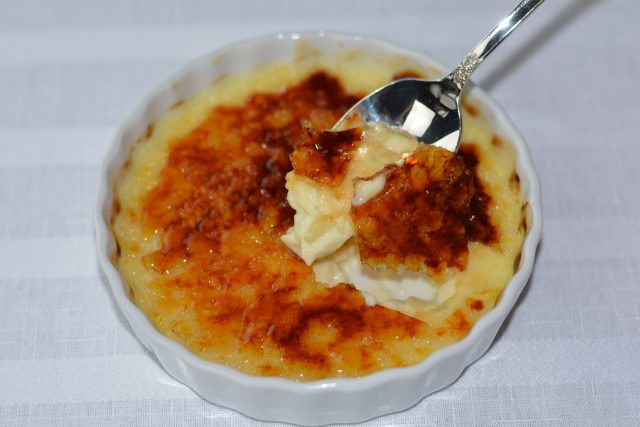 ---
If you're new here join our community and get your FREE resource. These are tips I wish I knew when I started cooking gluten free.
Yes, I need 29 Tips For Cooking with Gluten Free Flour.
Need some help learning to cook gluten free? Check out our virtual and in-person Cooking Classes.
---
More Dinner Club Menus