For experienced bakers there is always more to learn and in this post, How To Use a Gluten Free Flour Blend, I'm sharing tips with new ways to use your favourite flour blend. Do you have one? If not that's a great place to start.
You may be using a flour mix as a one-to-one substitute in both old and new recipes. You may even be getting some delicious results and that is awesome. With so many flours available even when you have mastered many recipes you may want to learn how to substitute some flours or incorporate them into recipes you like.
This post contains affiliate links. When you purchase using these links your cost is the same, but I receive a few cents for every dollar spent. I appreciate your support for this website.
Gluten Free Flour – A Blog Series
Over the past year I have written a blog post each month about a different gluten free flour. As I worked my way through the flours and starches in my kitchen I learned more about each one. I also learned more about baking with my gluten free flour mix. This post, How To Use a Gluten Free Flour Mix, is about baking and making adjustments with any gluten free flour mix.
To help you find the specific information you are interested in I have divided this post into the following sections.
The Purpose of Flour

Are All Gluten Free Flour Mixes The Same?

Store Bought vs Homemade Gluten Free Flour Mixes

Will My Gluten Free Flour Mix Work In All Recipes?

The New Gluten Free Baking Basics

The Recipes
1. The Purpose of Flour
Until you try to bake gluten free the properties of wheat flour are likely of little interest to the average home cook. Then suddenly you try to cook gluten free and wonder why the mix you bought and the recipe you chose just didn't work. Let's take a quick look at the purpose of flour.
Wheat flour has been used in baking for over 100 years so it is the standard. The gauge we use to compare. The gluten in wheat flour serves multiple purposes and that basic understanding is helpful to know why some mixes and recipes don't work. It also explains why one replacement flour may be better than another.
Flour is commonly used for three purposes:
To thicken sweet and savoury sauces, gravies, soups & stews
Flour coats meat and vegetables for frying or baking
To build structure in baking
2. Are All Gluten Free Flour Mixes The Same?
Every gluten free flour mix is a recipe. The increased interest in the gluten free diet has resulted in a huge variety of gluten free flours for sale. There are more than twenty flours available and new ones all the time. These are combined in so many ways it can be mind-boggling.
Gluten free flour mixes are typically made up of two or more different flour and starch combinations. Some recipes include binders and other ingredients. This table doesn't have amounts but it is to illustrate the different combinations people successfully bake with.
What did you notice in this table? I notice that every one of these recipes includes rice flour. My niece bakes for her sister-in-law who is gluten free and also allergic to rice. This is the joy and the challenge of gluten free baking.
Other challenges include going to the store but being unable to find the one flour you need, or running out of one ingredient when you have started baking and cannot run to the store. For these reasons a little knowledge about gluten free flour and confidence making substitutions will serve you well over time.
3. Store Bought vs Homemade Gluten Free Flour Blends
Whether you buy it or make it each mix is a combination of flours and starches. There are pros and cons to buying a mix or making one at home. This is a personal choice so do what you like. A homemade mix is less expensive and gives you more flexibility. It also requires you to stock several flours in your pantry. Buying a pre-made flour mix is easier but more costly. As you learn how to use a gluten free flour mix you might change your mind, possibly more than once.
I have an efficient system for making my 4-ingredient homemade flour mix. You can read about it in the recipe post or watch how I make it in this video.
4. Will My Gluten Free Flour Blend Work In All Recipes?
No. In my experience there is no single gluten free flour or flour blend that will produce excellent results in all types of recipes.
Cookies have a high fat and sugar content and cook quickly. Bread bakes slowly and needs to rise. I could go on and on but this is the science of baking.
I recommend you just start with the foods that are most important to you. What matters is whether you can repeat the recipe and that you enjoy eating it. Learning how to use a gluten free flour mix in new ways can help you do that.
5. The New Gluten Free Baking Basics
Experienced bakers may need to forget some of those tried & true baking tips that apply to wheat flour. Gluten free baked goods need to cook longer than "when a toothpick inserted comes out clean". If you want to bake here are a few of the new basics for successful gluten free baking.
A basic kitchen timer is essential, serious cooks might like this triple timer.
Use a wire whisk to thoroughly combine dry ingredients.
A strainer turns lumpy potato starch into the fine texture needed for baking.
An extra egg or yolk can help improve structure and add moisture.
Add ¼ teaspoon of xanthan gum to each cup of gluten free flour for structure and freshness.
Let batter or dough sit for up to 30 minutes before baking to absorb liquid and avoid a gritty texture.
Resting time helps gluten free baked goods keep their structure. Let them cool slightly in the pan then transfer to a cooling rack to cool completely.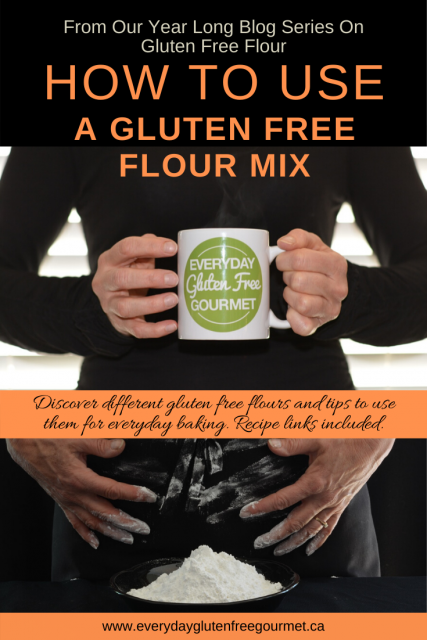 6. The Recipes
Here is a list of the flours I have in my kitchen and have baked with over the past year. The learning never ends so just try things that appeal to you but pay attention and learn what you like and how it works.
Pastry might sound intimidating but that's only because you probably don't make it often, maybe never. We made these Cherry Hand Pies for a cooking class and everyone learned that it wasn't as difficult as they thought it would be. It's also more fun making pie with a friend.
My mom always made Cinnamon Rolls from her biscuit recipe so I wanted to figure that out gluten free. I used my gluten free flour mix and added psyllium husk and it worked perfectly.
Muffins, Pancakes and Quick Breads
In your everyday recipes like muffins and pancakes, many call for 1¼ to 2 cups of flour. Replace ¼ – ½ cup of your this amount with the same amount of any of the individual flours listed above.
Coconut flour soaks up a lot of liquid so I suggest only substituting 2 Tbsp of this flour to start.
Quick breads like banana bread are often a muffin recipe made in a different pan like a loaf pan or an 8-inch square baking pan. This small change may require an adjustment in the cooking time and will possibly benefit from the use of a gum such as xanthan gum. Regardless, the flour substitutions are the same. Start by replacing ¼ – ½ cup of your flour mix with that amount of any of the above flours.
Gluten Free Cookies
Cookie recipes vary a lot. The high fat content and short cooking time present challenges. This basic Chocolate Chip Cookie recipe calls for 1¾ cups gluten free flour. Substitute 2-4 tablespoons of the total amount of flour with any of the above flours. This recipe for Chocolate Chip Cookies with Teff includes a mix and the teff flour.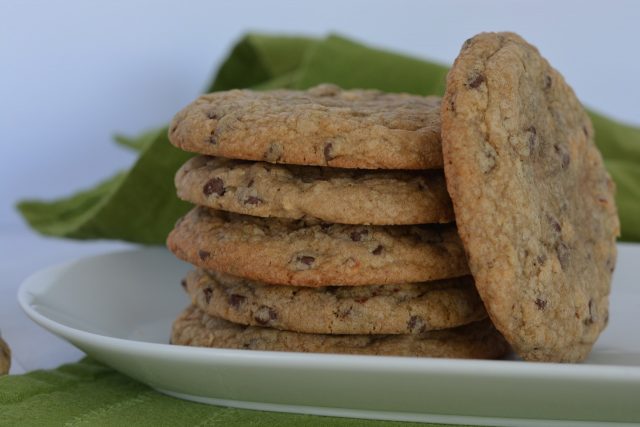 Gluten Free Brownies and Bars
Brownie recipes vary in the amount of flour called for. Cake-like brownies use more flour and fudgy ones use less. This recipe for Chocolate Cheesecake Brownies uses only ½ cup of quinoa flour and makes the fudgy brownies I love. I have made them with my gluten free flour blend and the recipe works. The brownie base is slightly less dense so you just need to try it and see what you like. If you're experimenting try using 1/4 cup of your blend plus 1/4 cup of another flour.
My recipe for Granola Bars uses ⅓ cup of brown rice flour. I experiment with it all the time using my EGFG flour blend, millet, quinoa and teff flour. So far I think they hold together best when I make them with my EGFG flour blend. I just keep experimenting to see what I learn.
Cupcakes
Cupcakes are intended to be delicate and cake-like. For this reason cupcake recipes often call for lighter flours. These include white or brown rice flour, sorghum flour, tapioca or potato starch. I don't make cupcakes often enough to experiment much but I'm sure someone reading does. These Orange Cupcakes use only sorghum flour and potato starch and they taste delicious!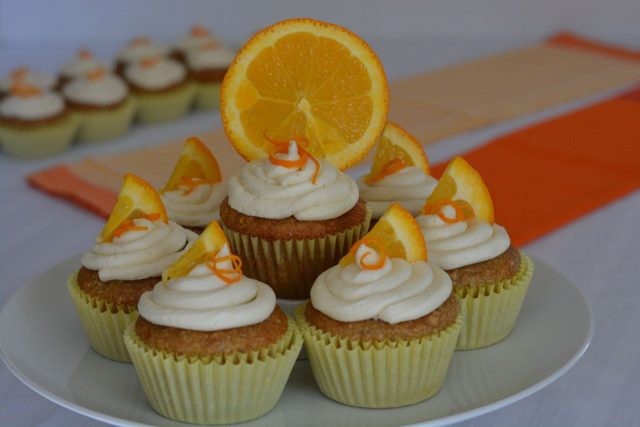 Other Uses for flour include the crumb topping on muffins and fruit crisps. A gluten free flour mix can be replaced with sweet rice flour, brown rice flour and probably several others. Start by replacing half the flour mix with any individual flour you want to try.
I hope that gives you some ideas of how to modify recipes with your gluten free flour mix to improve your results and try different flours. The goal is simply to be able to make delicious food that you want to eat. Don't adjust the recipes you are satisfied with. Just keep baking and learning, and enjoy the process.
I'd love to hear how these adjustments worked in your kitchen. Let me know in the comments below.
---
How To Use Gluten Free Flour series:
How To Use A Gluten Free Flour Blend