How To Use a Gluten Free Flour Blend is the final post in this 12-part series on gluten free flour. We've covered 21 ingredients; flours, starches and binders, that gluten free cooks can use.
For this final post I'm sharing ways to find a gluten free flour blend you love, how to tweak recipes using a blend and when not to use a blend.
There are recipes that use a single flour such as socca made with chickpea flour and my chocolate chip cookie pizza made with quinoa flour. These are not the focus of this post but they're great recipes that gluten free cooks should know about.
In this series these kind of recipes are covered in the specific post on those individual flours.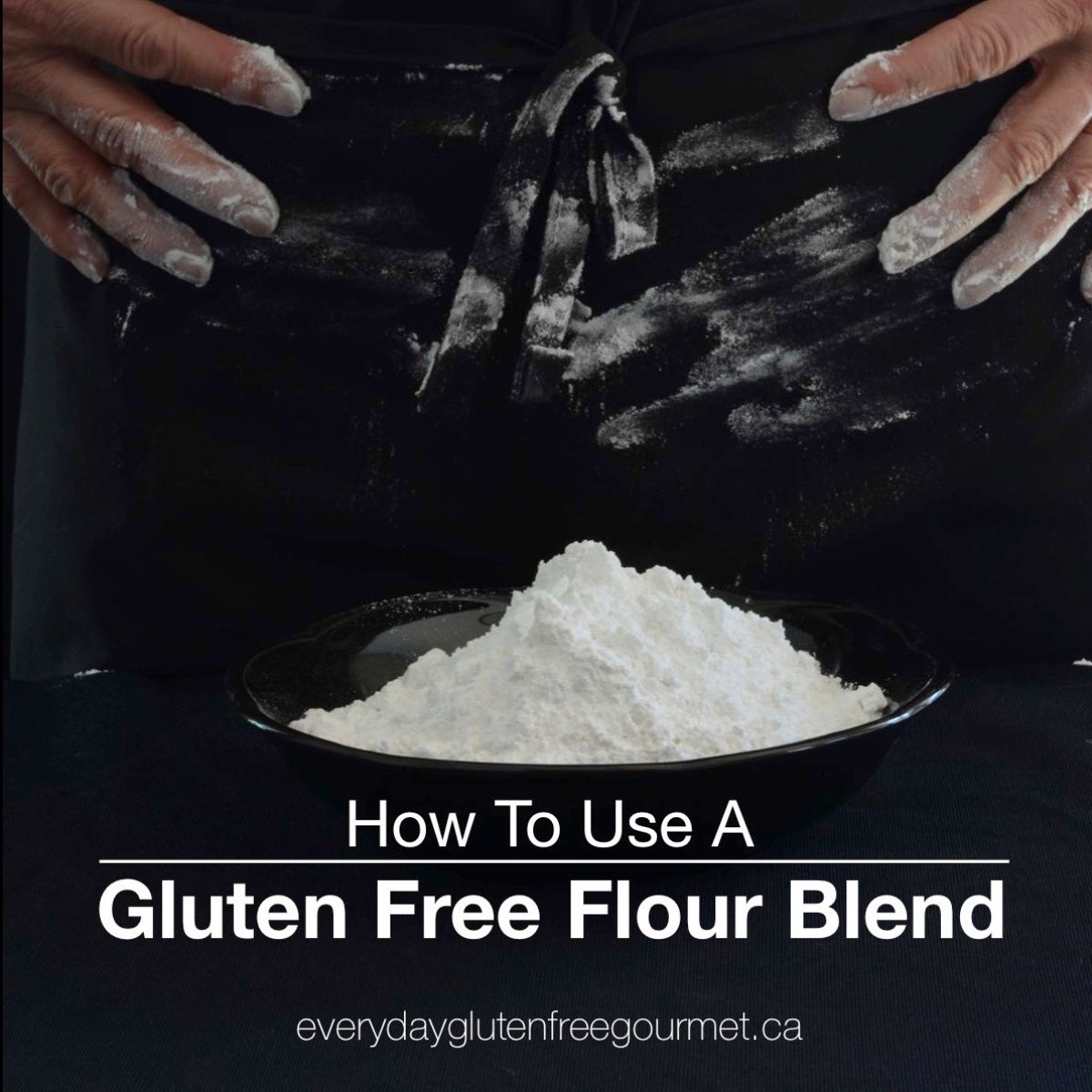 Tips For Finding a Gluten Free Flour Blend
Finding a flour blend you love is a game changer! It will likely work in 80-90% of all the foods you make. That will vary depending on what you cook but it makes life in the kitchen a whole lot easier.
If you haven't found that flour blend yet, make finding it your top priority with these two criteria;
Does the recipe work.
Do you like the taste and texture of what you made. Even if your results are only "pretty good" you can keep tweaking as you learn.
Here are some things to keep in mind as you learn more about cooking with a gluten free flour blend.
To mimic the properties of wheat flour you most often need a combination of different gluten free flours. No combination will ever work in every single recipe so start with easy recipes and don't be discouraged.
This limitless combinations of gluten free flour blends can feel overwhelming but it also means you can improve your baking. Set the bar high and expect to make things that are so good everyone in your house wants to eat the gluten free baking.
Read the labels on flour blends and over time figure out what you don't like. Pay attention and trust your tastebuds.
Some flour blends will work in some recipes as a one-to-one substitute. That means you can make your old recipes and simply substitute a gluten free flour blend for the wheat flour. Consider that a win, but don't try and make it work in every recipe (that's just crazy-making.)
The Purpose of Flour in Cooking and Baking
Wheat flour has been used in baking for over 100 years so it's the standard we use to compare. Flour is commonly used for three purposes:
To thicken sweet and savoury sauces, gravies, soups & stews
It coats meat and vegetables for frying or baking
To build structure in baking
Knowing this helps us understand why one replacement flour (or blend) may work better than another in a specific recipe, and then not work in another one.
Building structure in baking is the biggest challenge for gluten free cooks. Thickening and coating is best achieved without a gluten free flour blend. You can learn more about that in the recipe description in these posts:
Understanding Gluten Free Flour Blends
Gluten free flour blends are typically made up of two or more different flour and starch combinations. With over 20 flours available, a handful of starches and maybe a binder the combinations are endless. The percentages of each ingredient also varies so a basic understanding will serve you well.
The table below is an example of 11 different recipes that bloggers across the web are using successfully. You don't need to try them all, this is simply to help you appreciate the differences and why recipes calling for a generic 'gluten free flour blend' are going to give different results.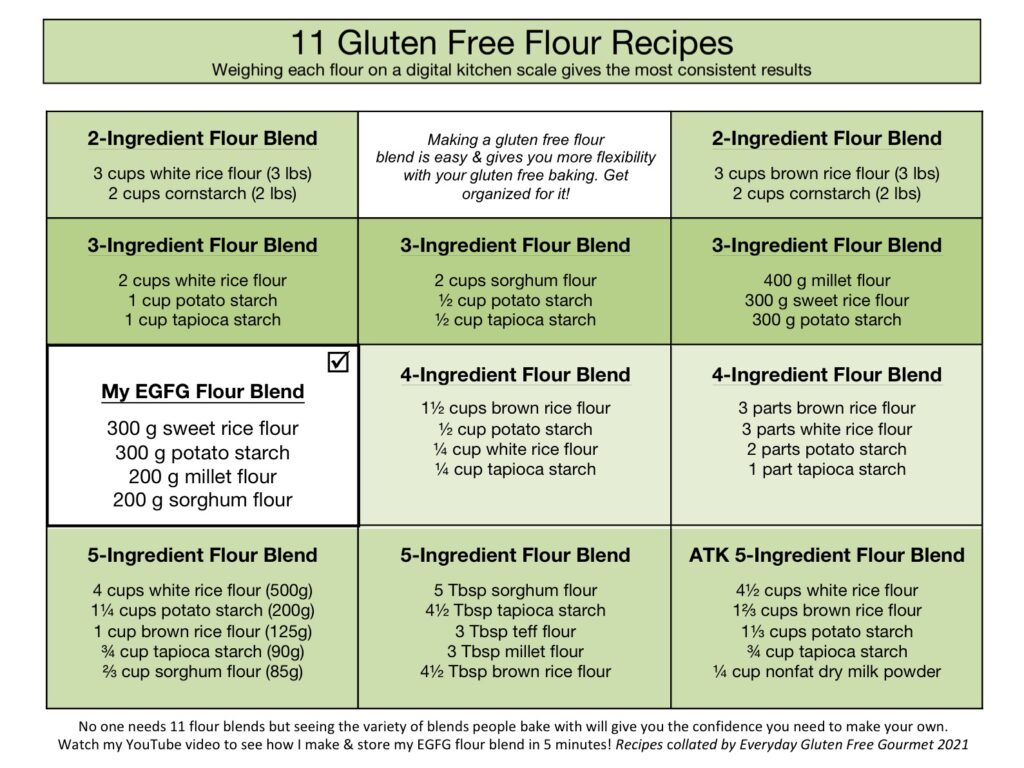 You can find more details in this post, 11 Gluten Free Flour Recipes and can learn about recommended percentages for different flours in this post, Downloadable Gluten Free Flour Guide.
Homemade vs Store Bought Gluten Free Flour Blends
There's no right or wrong and you can do both but here are a few things to consider about making or buying a flour blend.
| Homemade Flour Blend | Store Bought Flour Blend |
| --- | --- |
| -less costly per cup | -convenient and readily available |
| -more flexibility adjusting for different recipes | -more costly per cup |
| -requires more ingredients to be stocked in your pantry | -will not work in every single recipe known to man, but could be perfect for 80-90% of your baking |
| | |
PIN for later...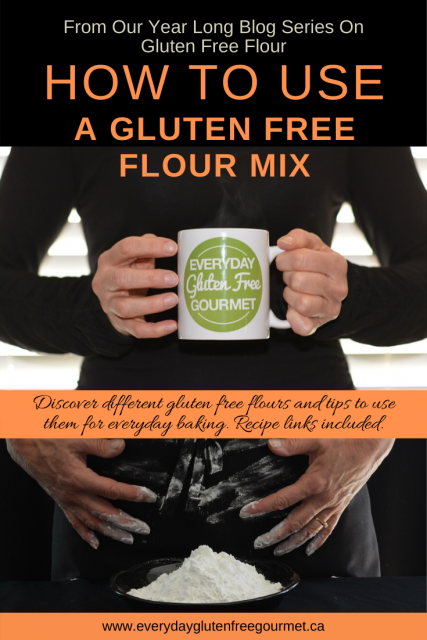 Learning How To Substitute Gluten Free Flours
There are many reasons we need to learn how to substitute with different ingredients. These are some of them:
Other dietary restrictions and preferences in your family
To recreate an old favourite recipe
Tweak a successful gluten free recipe to be closer to your old favourite
To try and new flour that could improve your baking
When you've run out of one ingredient
Those times you can't find a specific ingredient and you're not going to any more stores! (We've all been there.)
To add to your existing flour blend for any reason
To slowly use up some random flour you bought to make some specific recipe
There are no rules, just guidelines. Here are 3 tips to help you learn about different flours more quickly:
Pay attention to what you like and dislike. Keep notes if that helps.
Experiment with recipes you make over and over. I do this with my banana muffins.
Do head-to-head comparisons in the form of a pancake tasting or a baking spree. I often make two recipes of my granola bars side by side with different flours or blends. I also do this kind of comparison in my cooking classes making homemade pasta and even pizza dough.
Over time you'll gain more confidence to make substitutions that improve your baking.
Watch on YouTube: How To Make a Gluten Free Flour Blend
This is the system I came up with to make my homemade gluten free flour blend in less than 5 minutes.
Tools and Tips for Gluten Free Baking
The flour is important but you need these tips specific to gluten free baking too. Learn new things and invest in some tools to make baking enjoyable.
A basic kitchen timer is essential. Gluten free baked goods need to cook longer than "when a toothpick inserted comes out clean". so keep good notes and learn how long different recipes take to cook in your oven. Serious cooks might like this triple timer.
Use a wire whisk to thoroughly combine dry ingredients.
Use a strainer to turn lumpy potato starch into the fine texture needed for baking.
An extra egg or yolk to help improve structure and add moisture.
Add ¼ teaspoon of xanthan gum to each cup of gluten free flour for structure and freshness. Gluten free baking goes stale more quickly so cook smaller batches, use the freezer and store everything in an airtight container.
Let batter or dough sit for up to 30 minutes before baking to absorb liquid and avoid a gritty texture.
Resting time helps gluten free baked goods keep their structure. Let them cool slightly in the pan then transfer to a cooling rack to cool completely.
Here's a list of the flours I've used in my kitchen. Start by using them with your flour blend when you're ready to learn more.
The Recipes
There are over 320 recipes for you on my website. My guess is that 80% of the recipes that use flour are made with my EGFG flour blend. The table below lists some of them.
The other 20% are the recipes that work better when I use a specific combination of individual flours plus the few I mentioned that are made with a single flour.
Muffins, Pancakes and Quick Breads
Many recipes for muffins and pancakes call for 1¼ to 2 cups of flour. Replace ¼ - ½ cup with the same amount of any of the individual flours listed above.
Gluten Free Cookies
The high sugar and high fat content of cookies, and the short cooking time present challenges for gluten free cooks. I'm more cautious because of this but I have recipes that use my EGFG flour blend (these Chocolate Chip Cookies), this recipe with my blend and the addition of teff flour (Chocolate Chip Cookies with Teff) and several with my Cookie Flour Blend (gingerbread, snickerdoodles, thumbprint cookies and Cappuccino cookies). I would only substitute 2-4 tablespoons of the total amount of flour if you're up for experimenting.
Brownies and Bars
Brownie recipes often use a small amount of flour so are good for experimenting. This recipe for Chocolate Cheesecake Brownies uses only ½ cup of quinoa flour and makes the fudgy brownies I love. When made them with my gluten free flour blend the brownie base is slightly less dense but the recipe works. Try using ¼ cup of your blend plus ¼ cup of another flour.
Other Uses for a flour blend include the crumb topping on muffins and fruit crisps.
You've got lots of ideas to modify recipes with your gluten free flour blend to improve your results. Keep baking and enjoy the process.
I'd love to hear in the comments below when you have an a-ha moment in your kitchen.
Originally posted 2018, updated December 2022.
How To Use Gluten Free Flour Series
How To Use A Gluten Free Flour Blend