How To Use Oat Flour is number 11 in my 12-post series on gluten free flour. We can't talk about recipes until we know a little bit about the safety of oats and how oat flour is made.
Have you heard the acronym B.R.O.W.? It is to help you remember what foods to avoid and it stands for barley, rye, oats and wheat. Oats have come a long way in the ten years I've been cooking gluten free but it's safe to say "oats are complicated."
The use of oat milk and oat flour has sky rocketed in recent years. Not all of these products are safe for celiacs. Gluten free oats must be grown and processed according to a process called the Purity Protocol. This is a simple reminder that people living gluten free need to pay attention to food manufacturing practises.
A significant percentage of people on a gluten free diet cannot tolerate oats, including safe oats using the purity protocol. That's why it's important to know what is in the food you eat.
Read labels. Trust your gut and work with a dietitian specializing in celiac disease.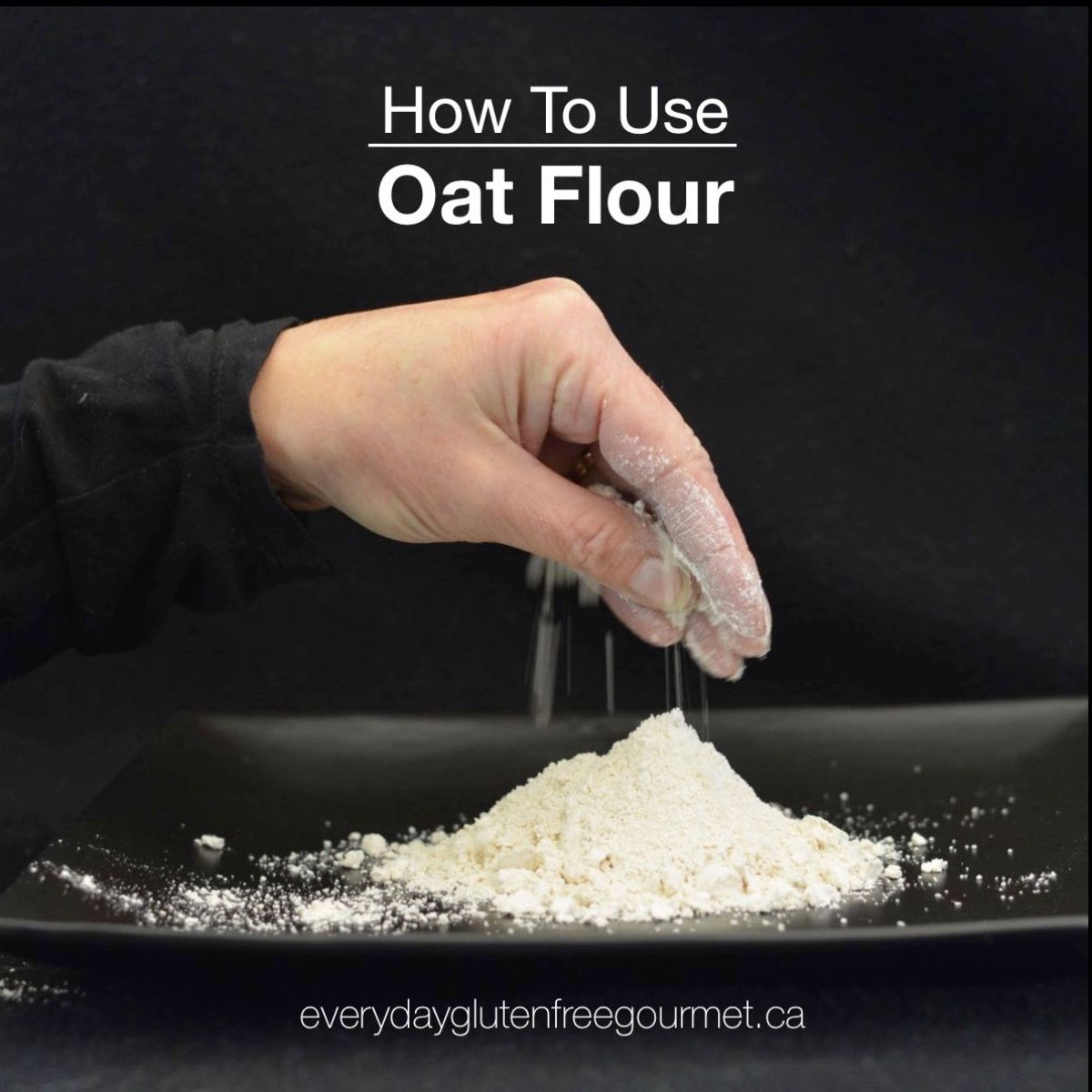 Is Oat Flour Safe for a Gluten Free Diet
Oat flour is finely ground from whole oats yet food manufacturing is a complex process with lots of opportunity for cross contact. Only oat flour, made from safe gluten free oats, is safe for anyone eating a strict gluten free diet.
The purity protocol was created to ensure oats were free of gluten and there are companies that sell safe gluten free oats. Their products are labeled but if you're interested in learning more about the process here are a few resources.
Tricia over at Gluten Free Watchdog shares accurate up-to-date information on all gluten free food products and claims. Oats and oat products are popular topics for her and I borrowed her statement, oats are complicated. Visit her website and follow her for updates.
PIN for later...
This post contains affiliate links. When you purchase using these links your cost is the same, but I receive a few cents for every dollar spent. I appreciate your support for this website.
Where To Buy Purity Protocol Oat Flour
There is an extensive list of companies selling oat products over at Gluten Free Watchdog but these companies specifically sell oat flour made from purity protocol oats. These are the brands to look for.
How To Use Oat Flour
Finally, we're now talking about how to use the flour in your kitchen.
Properties of Oat Flour
High in fiber which is important for anyone on a gluten free diet.
Light texture and mild flavour similar to wheat.
Absorbency that adds moisture to baked goods.
Helps make cakes light and fluffy.
Oat flour labeled gluten free may still contain gluten greater than 20 parts per million. Be aware of the source of your flour and support manufacturers using purity protocol oats.
Best Uses
Use up to 25% oat flour in a gluten free flour blend.
Pancakes, muffins, brownies and cupcakes.
Oatmeal cookies for a thick and chewy texture.
Use as sprinkling flour to prevent bread dough from sticking.
Can I Make Oat Flour from Whole Oats
Yes, you can make oat flour at home! Isn't that awesome?
You need a grain mill to make flour from other grains but you can put whole oats or quick oats into a food processor and make oat flour.
Now try and remember that when you're a little short somewhere.
The Recipes: How To Substitute Oat Flour
I experiment with oat flour all the time and became more adventurous as I wrote this series. I like to try different flours in the recipes I make most often. It feels low risk in pancakes, waffles or muffins and I learn how each flour affects the taste and texture.
My usual recommendation is to replace 2-4 tablespoons of the total amount of flour in any recipe. Simply doing this makes you pay closer attention to your results and increases your confidence with substitutions.
Here are a few ways to substitute oat flour in recipes you're already making.
There are enough ideas to have you trying oat flour for a year. Let me know what you learn.
Happy Baking!
Originally posted 2018, updated December 2022.
__________________________________________________________________________
New here? Join our community and get your FREE resource, the tips I wish I knew when I started cooking gluten free.
Yes, I need 29 Tips For Cooking with Gluten Free Flour.
Still haven't mastered gluten free cooking? Check out our online Cooking Classes.
_________________________________________________________________________
How To Use Gluten Free Flour series:
This is a series of blog posts on gluten free flours. My intention is to provide a basic overview of several gluten free flours for the everyday home cook, both new and experienced. Let me know in the comments below if you have a specific problem with your baking or a tip you'd like to share.
How To Use Oat Flour