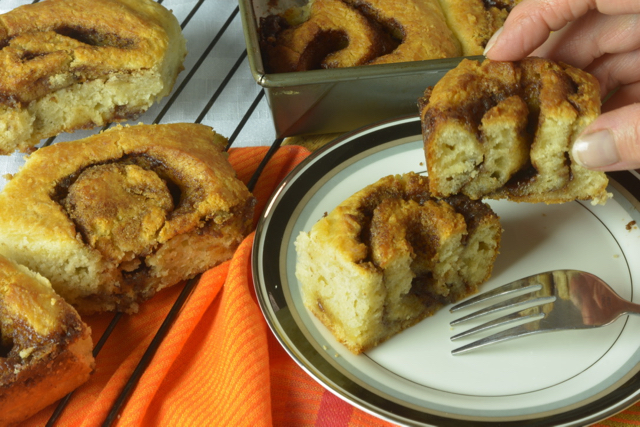 Description
My mom always made biscuit style Cinnamon Rolls from her basic biscuit recipe and we all loved them. She never baked with yeast so I never had those soft yeasty-style cinnamon "buns" slathered with icing until I was older. Although I enjoy both of these treats the biscuit recipe is easy so this is the gluten free version of my mom's recipe for cinnamon rolls.
Binders in Gluten Free Baking
As you become more comfortable with gluten free baking and read more recipes you notice that some use binders and gums. If you're interested in learning more about them check out this blog post, How To Use Binders in Gluten Free Baking. For now, here are a few points to remember about the role of binders.
The three most commonly used binders are xanthan gum, guar gum and psyllium husk. They are the glue that gives baked goods their structure.
They sound like weird ingredients but they're used in toothpaste, laxatives and all sorts of things you already consume.
I resisted buying

psyllium husk powder

for years but it is readily available at health food stores and isn't expensive. It's ideal for yeast breads which are always on my list of new recipes to try.
Gluten Free Biscuits
This older recipe for gluten free buttermilk biscuits uses xanthan gum and calls for individual flours and starches. You could use that recipe to make these cinnamon rolls but over time people have told me they prefer the ease of using a gluten free flour blend and I agree.
This recipe is a bit different from my previous biscuit recipe and I make it with my EGFG flour blend and psyllium husk powder.
PIN Cinnamon Rolls for later…
This post contains affiliate links. When you purchase using these links your cost is the same, but I receive a few cents for every dollar spent. I appreciate your support for this website.
Organize For Success – Dusting Flour
When you work with dough you always need a little bit of flour for dusting. Whether you've making these cinnamon rolls, sugar cookies or pie pastry if you're a baker you'll need some for these jobs. I find sweet rice flour works bests but tapioca starch or any gluten free flour mix can be used as well.
Kitchen Tip – Keep a small jar of flour in with your baking supplies (or where you store your flour) just for sprinkling. Label it accordingly.
Get The Tools
My mom always baked her cinnamon rolls in a metal 9-inch by 13-inch pan with a lid that slides over the top. Although I love that pan I've had better luck baking this recipe in a smaller 8-inch by 8-inch pan. In the smaller pan they don't spread out and are nice and soft.
These biscuits can be made by patting the dough with your hands but I prefer to use a rolling pin. In my cooking classes students often say they like the weight of my heavy marble rolling pin but any kind will do just fine.
The Baking Challenge
Over the years my mom has made countless pans of Cinnamon Rolls and so have I. Now my son makes them too. If you like this recipe keep making it until you have perfected the technique. Challenge yourself to make the same recipe three times within a few weeks. Then it will suddenly seems like an easy recipe that you can make over and over.
Let me know in the comments below how your cinnamon rolls turned out. If you're adventurous and made some tweaks let me know how it went.
---
More Recipes From My Learn To Bake Gluten Free Class
Click on the (hard to see) text on the bottom of each image to go to the recipe/blog post.
Cinnamon Rolls
These biscuit style Cinnamon Rolls are soft and sweet. They can be frozen raw and cooked all at once or just cook as many as you want so you can enjoy them warm from the oven every time.
Ingredients
2

cups

EGFG gluten free flour blend*

(265 g)

2

Tbsp

sugar

4

tsp

baking powder

¼

tsp

baking soda

1½

tsp

psyllium husk powder

½

tsp

salt

3

Tbsp

butter, chilled and cubed

¾

cup

plain yogurt

(I use 6% Greek yogurt)

1

egg

lightly beaten

2

Tbsp

vegetable oil

2

tsp

lemon juice
CINNAMON FILLING
½

cup

butter

room temperature

1

cup

brown sugar

1

Tbsp

cinnamon
Instructions
CINNAMON FILLING
Beat ingredients in stand mixer until light and fluffy, 2-3 minutes. Set aside.
DRY INGREDIENTS
In a large bowl whisk together flour mix, sugar, baking powder, baking soda, psyllium husk powder and salt.

Using a pastry cutter or your fingers rub the butter into the flour mixture until only small pieces of butter remain.
COMBINE WET INGREDIENTS
In another bowl whisk yogurt, egg, oil and lemon juice.
MAKE BISCUIT DOUGH
Stir yogurt mixture into flour until well combined.

Let rest at room temperature for 30 minutes.

Preheat oven to 450°F. Line baking pan with parchment paper.

Dust the counter and your hands with sweet rice flour, drop the dough onto a piece of plastic wrap. Work it into a rectangle shape. Cover with another piece of plastic wrap and using your hands gently press the dough into a rectangle of 7 or 8-inches by 10 or 12-inches. Lift plastic and sprinkle with a bit of flour if dough seems too sticky. Press plastic back on the dough, flip the dough using a flexible cutting mat or placemat.

Remove plastic, drop cinnamon filling over biscuit dough and spread right to the edges.

Using bottom piece of plastic gently roll dough lengthwise, pushing the dough and peeling away the plastic as you create a log. Refrigerate at this point if it seems too warm to work with. (Can be prepared to this point in advance and kept overnight in the fridge.)

Cut log into 1½-inch thick cinnamon rolls and place cut side up in an 8-inch square baking pan. Bake for 20 minutes.

Cool slightly on wire racks before eating.
Notes
*EGFG flour blend: 300g sweet rice flour, 300g potato starch, 200g sorghum flour, 200g millet flour (makes ~8 cups)
In an 8-inch square baking pan the rolls are close together they will be nice and soft, and bake in about 20 minutes. If baked in a 9 x 13-inch pan they will spread more so be slightly flatter and bake in about 15 minutes.