How to Use Binders is number six in this 'how-to' series on twenty-one ingredients gluten free cooks might want to use. There are many more than that but you don't even need all of them, this series is to help you decide which ones you want to use and how best to use them.
Binders, sometimes called gums, play a small but important role in gluten free baking. Some people call them the pixie dust that holds everything together or the glue to replace the gluten.
The three most commonly used binders in gluten free recipes are xanthan gum, guar gum and psyllium husk. You don't need to understand the science of these ingredients to use them but a little bit of knowledge will help you when making decisions in the kitchen and lead to the excellent results you want.
Do I Always Need To Use a Binder in Gluten Free Baking
No. At the end of this post I've included 'when not to use a binder' as well as some of the recipes I make that don't need a binder.
Although binders do play an important role in baking some people find they cannot tolerate gums. Another reminder that you need to know about all the ingredients you are eating to be symptom free as much as possible.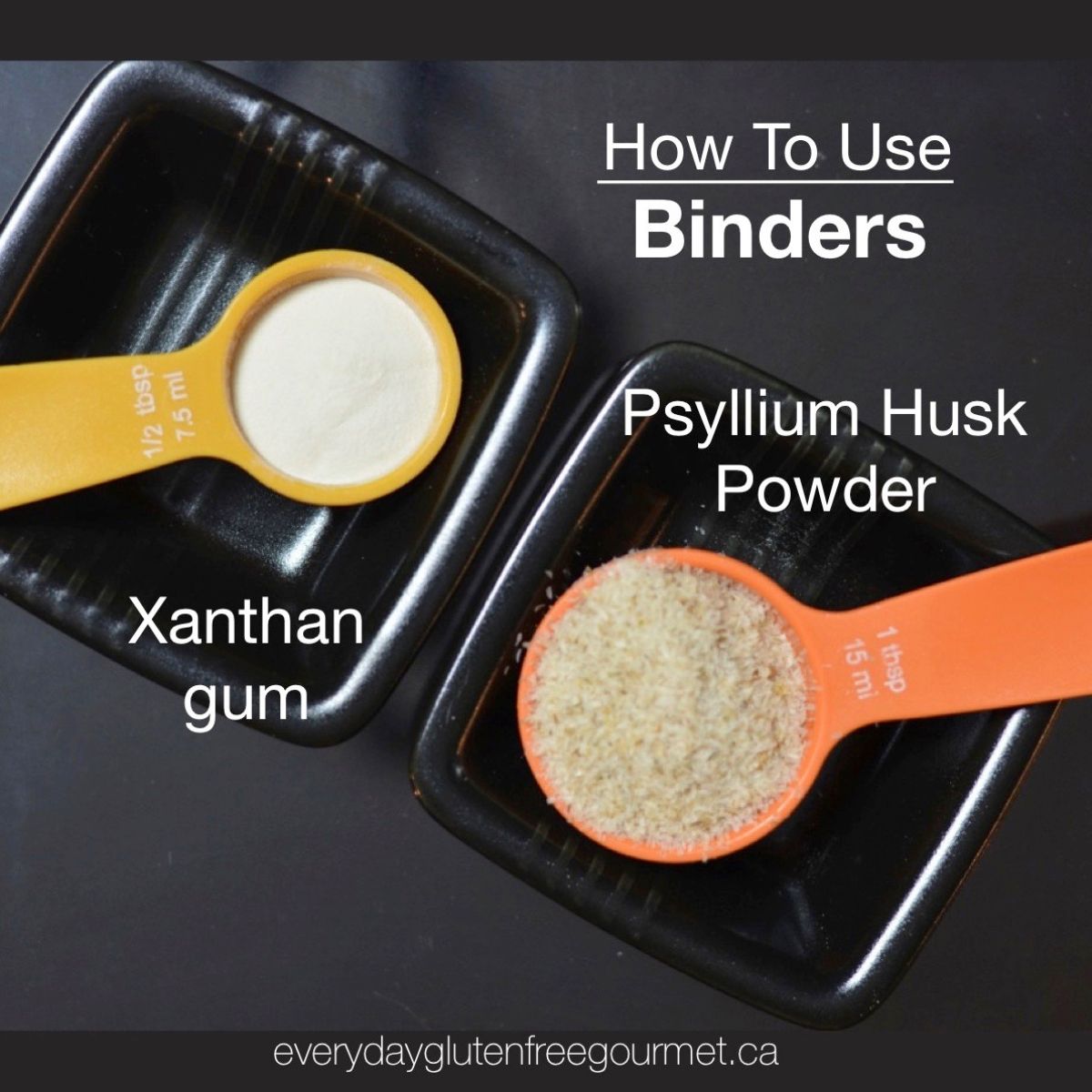 What is Gluten and What Does It Do
Gluten is a protein naturally found in wheat, barley and rye. The protein acts like a binder holding things together and adding a stretchiness to dough.
The main protein strands in wheat flour, glutenin and gliadin, wrap themselves around starch granules. When water is added these strands unwind and connect to form a network called gluten. This network can trap air to make light, airy baked goods and has a stretchy quality allowing dough to be shaped into anything and even tossed in the air to whimsically stretch pizza dough.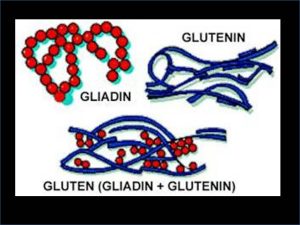 In gluten free baking we need lots of help to create a similar network. The protein in different flours helps but many combinations of flour and starch cannot create a structure like wheat flour does. That is why we use binders.
PIN for later...
What Are Binders For Gluten Free Baking
The three most common binders are xanthan gum, guar gum and psyllium husk powder. Each one works in a slightly different way to help create the structure we need to hold baked goods together.
If you're looking to add an excellent resource to your kitchen I recommend any of these books. They've got a lifetime of learning about cooking gluten free.
Xanthan Gum
Properties
Xanthan gum is commercially used as a thickener and stabilizer in ingredients like toothpaste and salad dressing.
Used to create structure and extend the freshness of gluten free baking.
It has a shelf life and is best stored in the fridge or freezer. I keep a small spice bottle of xanthan gum in the cupboard with my baking supplies and store the bag in the freezer.
Xanthan gum may seem expensive but it is used in small amounts and will last a long time.
Cons
Not everyone can tolerate xanthan gum and some people have a happier tummy when they bake completely 'gum free'.
Some people notice a metallic taste in baking with xanthan gum. I don't taste that so I use it in many of my recipes.
Best Uses
All gluten free baked goods.
Guar gum is a reasonable substitute if needed.
Guar Gum
Properties
Made from guar seeds, this powder is high in fibre and is used as a laxative.
Like xanthan gum it adds structure to baked goods.
Imparts a slightly starchy texture to baked goods.
According to America's Test Kitchen cookbook, How Can It Be Gluten Free, "guar gum does not perform as well as xanthan gum". They do more extensive testing than any home cook could ever do so I'm happy to follow their recommendation. I learned this early in my gluten free baking so I have never tried guar gum.
Best Uses
All gluten free baked goods.
Psyllium Husk Powder
Properties
Psyllium is a major component in laxatives. Sometimes called psyllium husk powder or powdered psyllium husk, it has a high viscosity so is able to bind water more effectively than xanthan gum.
It creates a sturdy network with the proteins in gluten free flours and adds a wheat flavour to baking that works well in yeast breads.
The wheat flavour in not desirable in baked goods like muffins and cookies.
A larger amount is required (compared to a tiny amount of xanthan gum) and for this reason it is more suited to use in yeast breads.
Best Uses
Watch How To Use Binders on YouTube
Where To Buy Binders (Gums) for Gluten Free Baking
Xanthan gum, guar gum and psyllium husk powder can all be found at stores that sell gluten free flour. Health food stores typically have more options.
Both Bob's Red Mill and Judee's sell xanthan gum and guar gum online.
Healthworks and Viva Naturals sell psyllium husk powder online.
Bags of psyllium husk powder are typically quite large. If that is why you've avoided buying it find someone local to share the amount with. If you're in Calgary where I live, each month when I sell cookie dough I package up small amounts of ingredients for people who want to try it without the big purchase. You can find more details about that on the CLASS CALENDAR page, click on the listing for YYC Cookie Dough.
How To Add Binders in Gluten Free Baking
Adding the exact amount of xanthan gum needed to each recipe will yield the best results. For this reason a gluten free flour blend, homemade or store bought, is best without a binder.
More importantly, read the ingredient list on the flour blend you are using so you know if there is a binder in it. To much binder can make baked good gummy.
If your blend doesn't have a binder a good rule of thumb is to add ¼ teaspoon of xanthan gum for every 1 cup of gluten free flour. This changes depending on the type of recipe you're making so it's simply a guide.
Recipes Using Xanthan Gum
Although I have tried several muffin recipes without a binder, I like the results better when I use xanthan gum. For that reason the majority of my baking includes it. Psyllium husk powder in less of them but it was a worthwhile addition to my pantry.
As you bake more and experiment with yeast recipes you'll want to use psyllium husk powder.
Here's 30+ recipes that have a binder in them.
Pancakes, Waffles and Muffins
Quick Breads, Cakes and Desserts
Pastry
Cookies
Savoury Foods
Recipes Using Psyllium Husk Powder
When Not To Use a Binder in Gluten Free Cooking
Gluten free bakers need to keep experimenting with everything they make. Some muffins and even cake recipes will work without a binder. Even though most of my recipes use a binder I do not use one in these recipes.
Recipes For Gluten Free Breading and Batter (without a binder)
Binders are not needed in gluten free breading and batter recipes, and gluten free flour blends do not give the best results in these recipes.
The high starch content of most gluten free flour blends creates a tough batter. To achieve the light, crispy batter you want for chicken, fish or vegetables use separate gluten free flours. In my recipe I use brown rice flour and cornstarch. Corn flour and cornstarch also works well.
If you're new here follow along and get your FREE resource, 29 Tips for Cooking with Gluten Free Flour.
Happy baking and cooking!
Originally posted 2017, updated November 2022.
__________________________________________________________________________________________
New here? Join our community and get your FREE resource, the tips I wish I knew when I started cooking gluten free.
Yes, I need 29 Tips For Cooking with Gluten Free Flour.
Still haven't mastered gluten free cooking? Check out our online Cooking Classes.
This is the sixth in a series of blog posts on gluten free flours. My intention is to provide a basic overview of several gluten free flours for the everyday home cook, both new and experienced. Let me know in the comments below if you have a specific problem with your baking or a tip you'd like to share.
How To Use Binders in Gluten Free Baking