Description
My aunt Marlene's recipe for Snickerdoodles is printed in our family cookbook. I was the editor of that book way back in 1995 yet some how I have never made these cookies. My mom baked pies, cakes and cookies but I don't think she ever made these cinnamon-dusted Snickerdoodles either. Funny how that works.
In the past year I've learned a lot about baking gluten free cookies and have shared all that in this post, Tips For Making Gluten Free Cookies. Writing my yearlong blog series on How To Use different gluten free flours inspired me to try new recipes and experiment as I learned. This cookie recipe uses individual flours instead of a flour mix and I have had good success with these kind of recipes.
Cookies have a high sugar and fat content plus they cook in a short amount of time. On top of that gluten free cookie recipes need to account for the fact that gluten free flour doesn't absorb fat as quickly as wheat flour. This recipe is adapted from the cookbook Gluten-Free Cookies by Luane Kohnke.
PIN for later…
Organize For Success – Choosing Recipes
Do you skip over a recipe when you see it calls for an ingredient you don't have or don't want to buy? I think that's smart and you can do that with gluten free cookie recipes too. But think about your goal; is it experimenting and learning or simply gathering a collection of awesome recipes.
If you are interested in learning about different flours keep in mind that some recipes are written using a flour mix while others call for individual flours. It may be worth trying those recipes that call for three or four ingredients in place of wheat flour, the very recipes you have been passing by. I'm used to baking recipes like that now, not all the time but some of the time. So I know if I can get used to doing it so can you.
Focus on getting your kitchen set up with the appropriate size containers for these different flours and then store them together for easy access. In this video I show how I make my homemade flour mix. The point here is in the last half of the video showing you how I store some of my flour.
Does that sound like too much work? If you're less interested in experimenting and simply want to collect recipes that work remember that when you're scrolling. Only look for recipes that use a gluten free flour mix. There is lots of variation between store bought mixes but your chance of success is better if the recipe was written for a flour mix.
I'm always learning but I have listed my cookie recipes at the bottom of this post and included what flour I used to make them.
Cream of Tartar and The Science of Snickerdoodles
In this recipe cream of tartar is actually a key ingredient. It makes Snickerdoodles a tangy, chewy cookie compared to a plain sugar cookie. The acid in cream of tartar is said to give Snickerdoodles their distinctive tangy flavour. The chew happens because cream of tartar prevents sugar in the cookie dough from crystallizing into crunchiness.
Wow, that's too much science for me. My cookies were crunchy and delicious. Tang? I didn't really notice that. Chew? No comment from my everyday palate. Cover anything in sugar and cinnamon and I will probably love it.
Cream of Tartar Substitute
I used the cream of tartar but I'm guessing not all of my readers will want to make a trip to the store to buy it. If you aren't looking for the unique tang and chew of Snickerdoodles you can bake them with this substitute.
1 tsp cream of tartar & ½ tsp baking soda = 2 tsp of baking powder
---
Get The Tools
Every kitchen needs some tools. Many of my pans are more than ten and twenty years old. It takes time to collect good quality pans but is worth the effort in the long run. Just pay attention to the pans and sizes that you like and work well for you. I suggest you work toward a collection like this so you can bake items like cookies, brownies, muffins and the occasional cake.
---
Enough about cookies, now get in the kitchen and start baking! Let me know in the comments below about your experience baking gluten free cookies.
---
More Cookie Recipes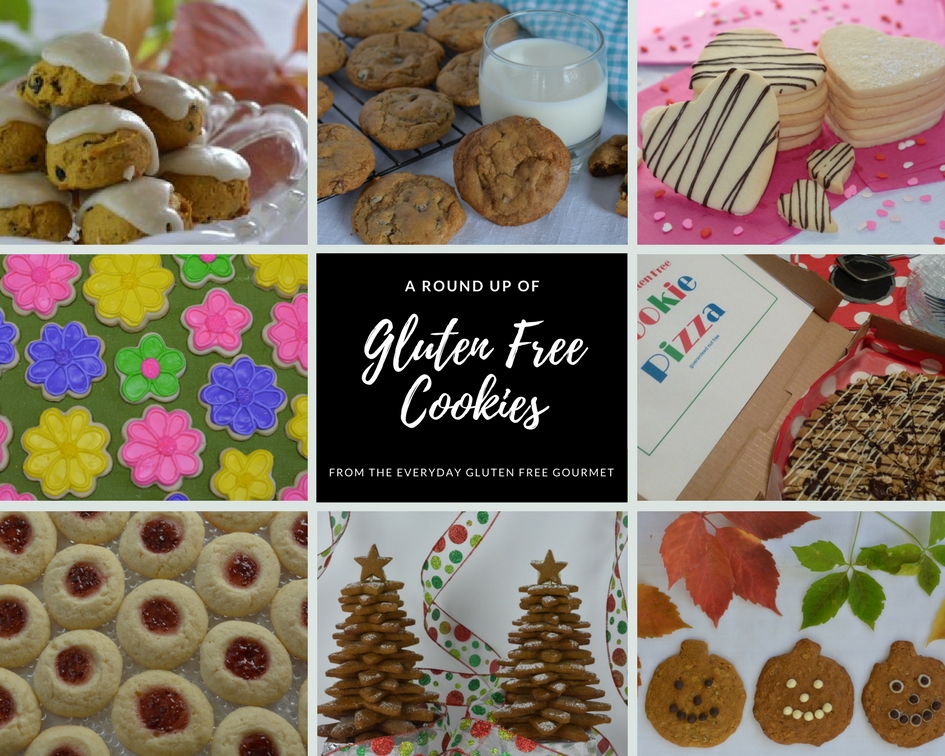 Ingredients
DRY INGEDIENTS
⅔ cup plus 2½ Tbsp brown rice flour
3 Tbsp plus 2¼ tsp potato starch
2 Tbsp plus ¼ tsp tapioca starch
¼ cup almond flour or ground almonds
1 tsp cinnamon
1 tsp cream of tartar*
½ tsp baking soda*
¼ tsp xanthan gum
¼ tsp salt
WET INGREDIENTS
½ cup butter, room temperature
¾ cup sugar
1 egg
CINNAMON-SUGAR TOPPING
2 Tbsp sugar
1 tsp cinnamon
Directions
1

In medium bowl combine brown rice flour, potato starch, tapioca starch, ground almonds, cream of tartar, cinnamon, baking soda, xanthan gum and salt. Whisk to combine, set aside.

2

In a stand mixer cream butter and sugar until fluffy, 2-3 minutes.

3

Add egg and beat another 1-2 minutes.

4

Reduce speed to low and slowly add the flour mixture until it is all incorporated. Cover bowl with plastic wrap and refrigerate for 2 hours or overnight.

5

CINNAMON-SUGAR TOPPING – In a small bowl mix together sugar and cinnamon. Set aside.

6

Preheat oven to 375°F. Line two cookie sheets with parchment paper.

7

Using a 1¼-inch metal scoop measure cookie dough into balls. Using your hands roll the balls until they are round then roll each ball in cinnamon-sugar topping. Place cookies onto cookie sheets about 2 inches apart.

8

Bake in preheated oven 10-12 minutes or until slightly brown around the edges. Place baking sheet on cooling rack for 2-3 minutes to harden. Transfer parchment paper with cookies to baking rack to cool completely.

9

Store in airtight containers or double plastic bags to keep fresh. Freeze as needed.

10

A 1¼-inch size scoop made 36 cookies.

11

*Cream of tartar substitute - 1 tsp cream of tartar & ½ tsp baking soda = 2 tsp of baking powder
Ingredients

Directions

DRY INGEDIENTS
⅔ cup plus 2½ Tbsp brown rice flour
3 Tbsp plus 2¼ tsp potato starch
2 Tbsp plus ¼ tsp tapioca starch
¼ cup almond flour or ground almonds
1 tsp cinnamon
1 tsp cream of tartar*
½ tsp baking soda*
¼ tsp xanthan gum
¼ tsp salt
WET INGREDIENTS
½ cup butter, room temperature
¾ cup sugar
1 egg
CINNAMON-SUGAR TOPPING
2 Tbsp sugar
1 tsp cinnamon

In medium bowl combine brown rice flour, potato starch, tapioca starch, ground almonds, cream of tartar, cinnamon, baking soda, xanthan gum and salt. Whisk to combine, set aside.
In a stand mixer cream butter and sugar until fluffy, 2-3 minutes.
Add egg and beat another 1-2 minutes.
Reduce speed to low and slowly add the flour mixture until it is all incorporated. Cover bowl with plastic wrap and refrigerate for 2 hours or overnight.
CINNAMON-SUGAR TOPPING – In a small bowl mix together sugar and cinnamon. Set aside.
Preheat oven to 375°F. Line two cookie sheets with parchment paper.
Using a 1¼-inch metal scoop measure cookie dough into balls. Using your hands roll the balls until they are round then roll each ball in cinnamon-sugar topping. Place cookies onto cookie sheets about 2 inches apart.
Bake in preheated oven 10-12 minutes or until slightly brown around the edges. Place baking sheet on cooling rack for 2-3 minutes to harden. Transfer parchment paper with cookies to baking rack to cool completely.
Store in airtight containers or double plastic bags to keep fresh. Freeze as needed.
A 1¼-inch size scoop made 36 cookies.
*Cream of tartar substitute - 1 tsp cream of tartar & ½ tsp baking soda = 2 tsp of baking powder