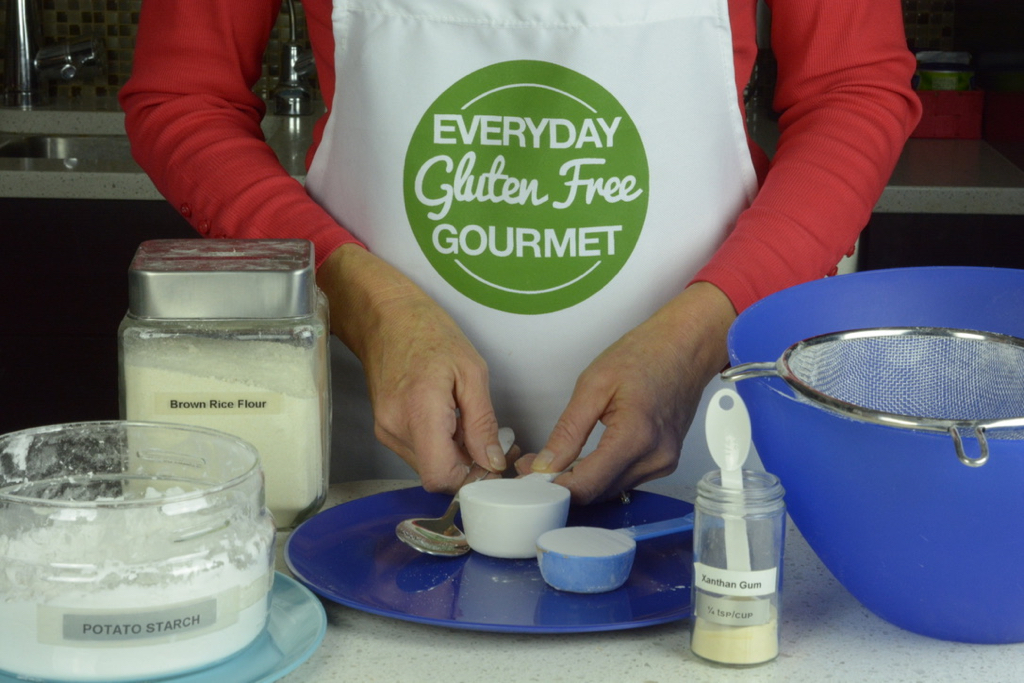 Description
This cookie flour blend is what took my cookie baking to the next level! If you're still trying to perfect cookies or you want to make gluten free versions of some old favourites keep reading. I've got tips for success and some cookie basics for gluten free bakers.
Having a few flops with cookie recipes seems like a mandatory part of learning to bake gluten free. People share stories and pictures of cookie dough spread over entire baking pans swimming in grease. In the moment it's frustrating, expensive and might make you shy away from trying cookies again. Yet the lure of warm cookies right out of the oven, spending a relaxing evening baking with a friend or the excitement of watching kids learn to bake are all reasons that bring us back into the kitchen to try again.
October seems to kick off baking season with Halloween cookies then soon enough we're on to gingerbread and shortbread. If you love making cookies, or are trying to pass that job on to your kids, try this gluten free cookie flour blend. It won't work in every single recipe but it was a game changer for me!
Read The Label
It's always worth repeating, there is no single gluten free flour or flour blend that works in all recipes. That's why there are so many flour blends available. Gluten free bakers know that almost everything we make is with a blend of flour and starch. It's one thing to find a blend you like, it's another thing to find what works in cookie recipes.
The terms blends and mixes are used interchangeably but technically a box mix will include binders, a leavener and flavouring. I'm just talking about the flour itself. My best tip is to simply be aware of what you're using so just read the label.
Making My Cookie Flour Blend on YouTube
Here's my YouTube video on this topic or you can read more in the post (link at bottom of this page).
Remaking Old Favourites
Whether you're new to gluten free or just want to improve your homemade cookies this is an excellent flour blend to try. Cookies have a high fat and sugar content plus a short cooking time that doesn't allow for the gluten free flours to absorb all the liquid. This may be why your old recipes don't work with a flour blend you thought was great.
I've successfully made cookies with what I refer to as my EGFG flour blend but many recipes didn't. I learned that brown rice flour and almond flour work well so I experimented adding those to my blend in some recipes. For other recipes like my favourite gingerbread I used this gluten free cookie flour mix and they were perfect! The results were so amazing that I was encouraged to try different recipes with this new blend.
PIN for later…
This post contains affiliate links. When you purchase using these links your cost is the same, but I receive a few cents for every dollar spent. I appreciate your support for this website.
Organize For Success
One of my mantras is Organize For Success. With so many more ingredients some organization on the front end will prevent frustration when you bake. I try not to make a flour blend at the same time as I bake to avoid frustration and confusion. Think of your flour as an extension of grocery shopping. Get organized, have your flour blends in the cupboard ready to use when you want to bake.
Below is a printable pdf with the original small recipe plus a double and quadruple recipe for holiday baking. Print it and tape it to the inside of a cupboard door, the container you make or store the flour in or both. Make as much as you need and store it in the freezer when you're taking a break from cookie making.
Get The Tools
Every kitchen needs a few tools and it will change over time depending on what you like to cook. Many items will last for decades so think of them as an investment and buy decent quality. Here are a few of the tools I use to make cookies and I might use all of them during a cookie baking spree during the holiday season.
If you're planning to bake this holiday season start now. Chose two or three recipes you want to master and give this gluten free cookie flour mix a try. I'd love to hear about your cookie baking in the comments below.
---
More Help For Cookie Baking & More Recipes
My blog post titled Tips For Making Gluten Free Cookies is full of tips and for podcast listeners it also includes a link to my interview with Sue Jennett on A Canadian Celiac Podcast all about cookies.
From my year-long blog series on How To Use Gluten Free Flour this post, How To Use A Gluten Free Flour Mix has lots of tips for using a mix. With ways to tweak what you are already doing you'll be on your way to improving your results. Happy Baking!
This is my Recipe Round Up of Gluten Free Cookies with links to all my cookie recipes.
Ingredients
⅔ cup brown rice flour
¼ cup almond flour or ground almonds (not almond meal with dark skin included)
3 Tbsp potato starch, sifted
1 Tbsp + 2 tsp tapioca starch
¼ tsp xanthan gum
Directions
1

Combine all ingredients in a bowl and whisk until evenly mixed. Store in airtight container.