These Muffins That Taste Like Donuts are my interpretation of 'those little donuts', the ones you buy at Amusement Parks. Although mine aren't deep-fried they are soft and cake-like, dipped in butter then rolled in cinnamon-sugar and they're delicious.
These muffins remind me of the cake donuts my grandmother made when I was young. I remember watching her fry donuts in a cast iron pan on the stove in hot oil, something my mom never did. When all the big donuts were cooked she fried the little holes. Us kids each got a brown paper bag with some white sugar in the bottom. As she cooked the donut holes she transferred them to our bags and we would shake them in the sugar before eating them warm. It's a great childhood memory of mine.
PIN Muffins That Taste Like Donuts for later...
Midway Food and Muffins That Taste Like Donuts
Every July the world is invited to come to The Greatest Outdoor Show On Earth in Calgary, Alberta. It's a western event with a rodeo and chuck wagon races, amazing entertainment and a midway, but for some people it's all about the food. Each year they advertise their line up of weird and wonderful food and the idea is to out do the offerings from the previous year. From Cricket Pizza to Butter Beer Ice Cream you never know what you'll see but you can be guaranteed there'll be something outrageous. The more outrageous the better.
I think of summer as the season for amusement park food. Call it junk food or midway food but no matter what you call it people love it. There's a lot of excitement around the idea of eating these treats. It's partly nostalgia for the food you ate as a child and partly the anticipation of trying something you haven't eaten since last year. Then there's the atmosphere, walking around outside, eating food on a stick or "those little donuts" hot out of a little bag.
Reinventing Amusement Park Food Gluten Free
There will always be amusement park food that's off limits for people on a restricted diet. Many celiacs simply reinvent what they want at home. Whether it's an ongoing adventure trying different foods one at a time or an annual party with friends, you can think outside the box and do it your way. Here are three ideas to get you thinking.
Deep-fry all your favourites and invite friends to share in the fun.
Create an Amusement Park Food dinner party or (a Junk Food party) and have everyone bring one thing.
Host a competition and challenge like-minded friends to create something new. Do this with as little as three food items and invite the others to fill in the menu with healthier fare (or not).
Get The Tools
All you need is a mini muffin tin to make these muffins. I haven't bought one of those donut pans yet but if I had one I'd try it with this recipe.
Let me know in the comments below if you made these muffins, tried them in a donut pan or even deep-fried them.
---
More Recipes – Amusement Park Food
Click on the text on the image(s) to go to the recipe/blog post.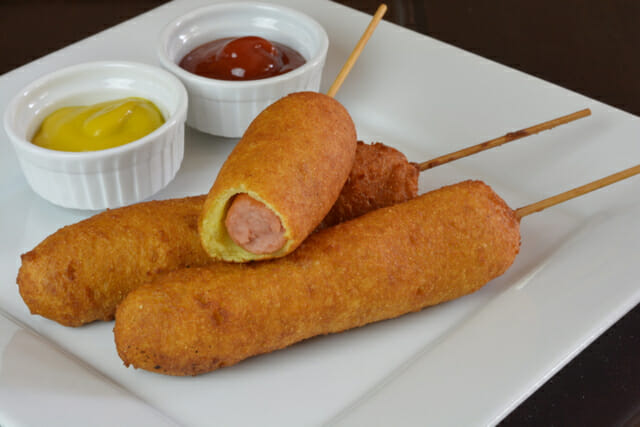 Muffins That Taste Like Donuts
Muffins That Taste Like Donuts are a gluten free version of 'those little donuts' with a cinnamon-sugar coating that you find at Amusement Parks. Kids love them!
Ingredients
DRY INGREDIENTS
1⅓

cups

EGFG gluten free flour blend*

(175 g)

¾

cup

sugar

1

tablespoon

cinnamon

1½

teaspoon

baking powder

½

teaspoon

baking soda

¼

teaspoon

xanthan gum

¼

teaspoon

salt

⅛

teaspoon

nutmeg
WET INGREDIENTS #1
¼

cup

sour cream or yogurt

(first amount)

¼

cup

butter, room temperature
WET INGREDIENTS #2
2

eggs

½

cup

sour cream or yogurt

(second amount)

1½

teaspoon

vanilla
CINNAMON-SUGAR TOPPING
¼

cup

melted butter for dipping

½

cup

sugar

2

teaspoon

cinnamon
Instructions
In the large bowl of an electric mixer combine flour, sugar, cinnamon, baking powder, baking soda, xanthan gum, salt and nutmeg. Whisk the dry mixture until evenly combined.

With electric mixer on low add the sour cream (first amount) and butter. Beat for 2 minutes.

In another bowl combine eggs, sour cream (second amount) and vanilla. Add half the mixture to the large bowl and beat until mixed in. Add the remainder of the mixture then increase speed to medium-high and beat until light and fluffy, about 2 minutes.

Using mini or regular size muffin tins; grease or line with silicone or paper muffin liners. Using a portion scoop fill muffin tins ½ - ¾ full.

Bake in 350°F oven 18 minutes for mini muffins or 20 minutes for regular size muffins.

Cool on rack 5 minutes before carefully removing each muffin from the pan. Cool completely on wire racks before adding cinnamon-sugar topping.
CINNAMON-SUGAR TOPPING
Melt butter in small bowl. Set aside.

In another bowl combine sugar and cinnamon. Divide the mixture into 2 bowls.

Dip the top of each muffin into melted butter then into the cinnamon-sugar. When there are too many lumps of butter in the sugar change to the other bowl.
Notes
*EGFG flour blend: 300g sweet rice flour, 300g potato starch, 200g sorghum flour, 200g millet flour (makes ~8 cups)
If the muffin tins are too full they will rise over the top of the pan and then break when you try to remove them.
DAIRY FREE - This recipe works well with dairy free margarine and sour cream.
DONUT PAN: Followers have told me they make this recipe in both a mini donut pan or a regular size donut pan and everyone loves them!