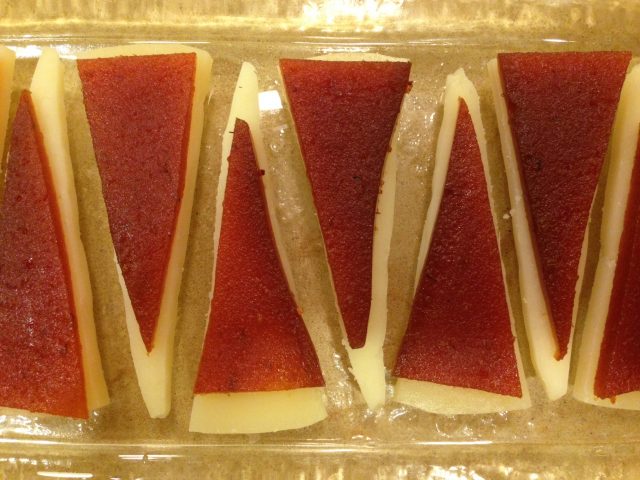 Description
Manchego Cheese with Quince Paste is a much loved tapa. In Spanish cuisine tapas refer to a variety of appetizers or snacks that can be simple like this cheese and quince combination or banderillas on toothpicks. They can also be more complex including sauces and even pastry. If you like appetizers you need to learn more about tapas!
This tapa, Manchego cheese with quince paste, is easy and delicious, yet just different enough to be interesting. Simply cut into triangles it has an impressive presentation making it ideal for the holiday season.
Manchego cheese is a sharp, hard sheeps' milk cheese. Once difficult to find it can now quite easily be found at deli counters and specialty cheese shops. If you cannot find Manchego cheese substitute a well-aged Italian Asiago, Pecorino or even a sharp, white English cheddar.
Quince Paste vs Quince Jam
In Spanish quince paste is called membrillo or dulce de membrillo. It is a sweet, thick, jelly made from the pulp of the quince fruit. It is sold in round or rectangular-shaped plastic tubs and is firm enough to be sliced. I most often see quince paste in shops around the Christmas holidays and it reminds me to make this tapa. Look for it in the deli section or in specialty food shops. In Calgary I sometimes buy it at the Cookbook Company.
Is there a substitute? If you cannot find quince paste you could do the same idea using quince jam or fig jam. Rather than slicing the paste simply spread the jam on the cheese pieces and serve it the same way.
Organize For Success – Easy Tapas
Planning ahead always pays off yet most of us do it in so many areas of life it can feel overwhelming to plan all your food. For custom eaters it's a lifesaver. Learning different ways of planning helps make it feel easier and celiacs know a lot of ways to plan their food.
Even if you're not a list maker you can make mental lists. If you stick with it those mental lists will come back to you when you need them. Start with your Top 3 Appetizers and keep adding. Aim for a Top 10 and see how far you get.
I don't have a specific number because recipes are my super power. What I do have for you today is a Round Up of Holiday Appetizers with a little something for everyone. There are beautiful platters for holiday parties, stunning dips for a buffet table, soup shooters for fancy dinners and tapas from simple to 'worth the effort'.
Manchego Cheese with Quince Paste, or substitute fig jam or chutney, and add it to your list if you love it.
For holiday entertaining, impromptu food with friends or just treating yourself to the foods you love, appetizers have their place. Let me know in the comments below if you found some new appetizers this season that you want to repeat.
More Recipes – Holiday Appetizers
Click on the text below the image to go to the blog post.
Ingredients
1/2 lb Manchego cheese
1/2 lb quince paste
Directions
1

Cut Manchego cheese into triangles.

2

Cut quince paste into triangles slightly smaller than the cheese. Place on cheese.

3

Arrange on tray. Serve at room temperature.