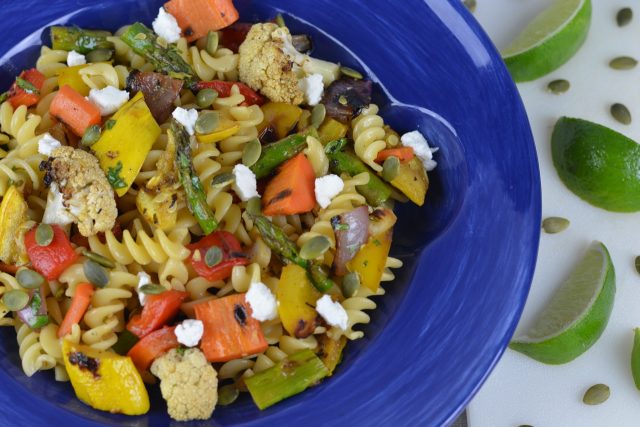 Description
In my house we all love Asian, Southwestern and Italian food so this Southwestern Grilled Vegetable Pasta dish, a fusion of these cuisines, is a winner.
Cooking isn't as specific as baking so recipes for savoury dishes can often be used as a guide. I follow the recipe for the sauce but for the vegetables use what's in season or whatever's in your fridge and make it your own.
The sauce in this dish is an unusual combination. Hugh Carpenter, one of my favourite cookbook authors, is a master of fusion food and has inspired many of my recipes.
Grilling Onions for Grilled Vegetable Pasta
My husband does the majority of grilling in our house but I generally do the prep. My tip for grilling onions is to use skewers. I peel a whole onion, hold it on it's side then put the skewers in. I imagine cutting the onion into four thick rings and push the skewers in between those imaginary lines. The skewer just goes in until it hits the cutting board but that is enough to hold it together for the cutting. Skewering the onion slices makes them easier to manage.
PIN Grilled Vegetable Pasta for later…
This post contains affiliate links. When you purchase using these links your cost is the same, but I receive a few cents for every dollar spent. I appreciate your support for this website.
Organize For Success – Marinade vs Sauce
The sauce in this recipe doubles as a marinade, a brilliant step that makes this dinner a little bit easier. Measuring the ingredients right into a pyrex measuring cup decreases the amount of dishes used in the prep. Since there is no raw meat involved you can brush the marinade on the vegetables right from the cup leaving the sauce ready to be added to the hot pasta. These little practices help to get dinner on the table in less time and make clean up easier.
Chipotle Chiles
Chipotle chiles are smoked jalapeños in a spicy adobo sauce. They are readily available but some brands contain wheat so check the label. If you're intrigued check out this post, Chipotle Chiles in Adobo Sauce vs Chipotle Chile Powder.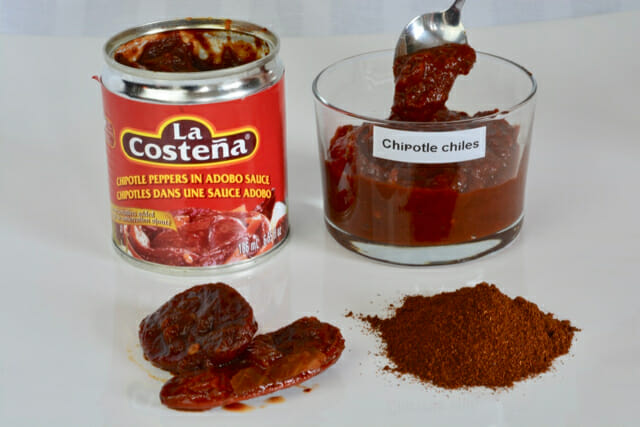 If you just know you're going to love them here are some more recipes using chipotle chiles.
Let me know in the comments below how you made your Southwestern Grilled Vegetable Pasta.
---
More Recipes – Pasta
Click on the text on the image(s) to go to the recipe/blog post.
Ingredients
VEGETABLES
6 large cauliflower florets, halved
12 asparagus spears, trimmed
4 carrots, peeled and cut lengthwise
1 red or yellow pepper, quartered
1 yellow or green zucchini sliced lengthwise into thick slices
½ red onion, sliced and skewered to hold it together
MARINADE
½ cup white wine
1/3 cup olive oil
1/3 cup lime juice
¼ cup GF soy sauce
2 tablespoons pureed canned chipotle chiles in adobo sauce (or 1-2 chiles, minced)
2 Tbsp brown sugar
1 tsp ground cumin
1/3 cup chopped fresh cilantro
4 cloves garlic, finely chopped
FINISHING
4 oz goat cheese
1/2 cup toasted pumpkin seeds
fresh cilantro
Directions
1

VEGETABLES - Cut and set aside on a platter while making the marinade.

2

MARINADE - Combine all marinade ingredients in a large pyrex measuring cup. Reserve about half to toss with cooked pasta.

3

Brush all the vegetables with remaining marinade and set aside for about 30 minutes.

4

GRILLING - Cook vegetables in batches on preheated barbecue, brush with additional marinade if desired. Remove vegetables from grill as they are cooked to your liking.

5

Cut vegetables into bite size pieces. Can be prepared several hours in advance.

6

PASTA - Bring water to boil and cook pasta according to package directions. Drain and rinse to stop cooking process.

7

Heat 2 tablespoons olive oil in the pasta pot. Add grilled vegetables, stir gently to reheat. Add pasta and reserved marinade, toss to evenly combine. Taste and salt if needed.

8

SERVING - Sprinkle each dish with goat cheese, cilantro and pumpkin seeds. Serve immediately.