This hearty Green Bean Soup with cilantro is a recipe I look forward to making when I have fresh green beans from the garden, anyone's garden. It's a simple recipe, as most soups are, but only making it when the beans are fresh means it always seems new.
A Seasonal Strategy - Green Bean Soup
Cooking with seasonal ingredients is the best strategy I know to ensure lots of variety to my everyday meals. As soon as green beans are ready I have a dozen recipes that come to mind including this hearty soup. I love a dinner of soup and salad or sometimes soup and warm buttermilk biscuits. The leftovers are always appreciated for lunch at home or to take to work.
Authentic Parmesan Cheese
Do you buy real Parmesan cheese? I mean Parmigiano-Reggiano from Italy?
In my early twenties I visited Parma, Italy. I had a little travel book that was called a European menu reader. That book listed specialty foods from all over Europe and I was determined to try as many as I could. The town of Parma was on my list to taste some authentic Parmesan cheese. I remember seeing stacks of giant wheels of Parmesan cheese in shop windows as we walked down the street. They were often beside six-packs of Chianti wine in the classic woven basket. At that time the only Parmesan cheese I'd had came out of a round green box. That make this experience all very exciting!
Of course Parmigiano-Reggiano is now readily available and you pay a good price for it. A slightly less expensive similar cheese is made near Parma and is called Grana Padano. I use both types of cheese and save the rinds in my freezer to add to soups and stews. When I need one I just open the bag and toss a few frozen rinds in for flavour. If you love cheese this is a great kitchen hack.
Get The Tools for Soup
Cookware is an investment and a good set of pots is essential. You don't need the most expensive set but consider that many items you purchase will last for decades. Notice what you like and choose wisely when you buy.
For the everyday home cook like me the largest pot in a typical set of pots is usually perfect for making soup. Although recipes sometimes say a Dutch oven or a soup pot they probably don't really mean that. A modern Dutch oven is like the gorgeous Le Creuset enamelled cast iron pot. They are heavy and expensive but will last for a lifetime of cooking. For a fraction of the cost you can buy a lesser quality enamelled cast iron Dutch oven and although I'm not sure, I think it would last at least half a lifetime.
Some recipes will call for a soup pot, also called a stockpot. Technically this is an extra large, bigger than what comes with a set of pots. They are ideal for an annual jam or salsa-making party, or special events like a lobster boil. If you cook for large groups you should own one. Many people would never really need one since the largest pot in a typical set of pots is perfect.
So if you like green beans give this hearty Green Bean Soup with Cilantro a try. Let me know what you thought in the comments below.
---
More Soup Recipes
Check out A Round Up of Homemade Soups to see a year of soup recipes.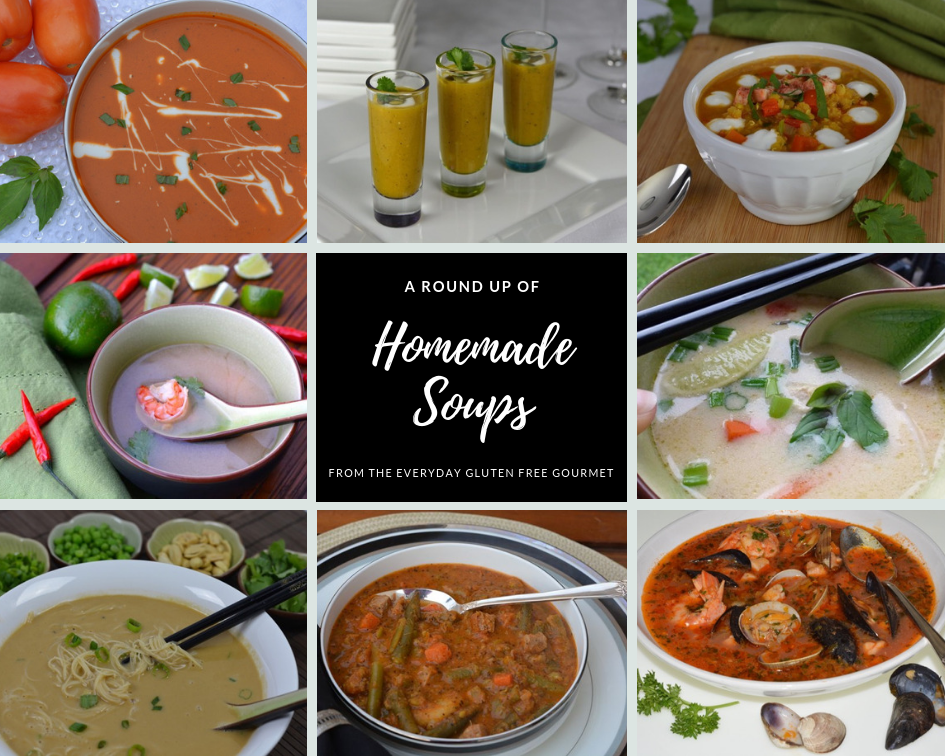 Green Bean Soup with Cilantro
This hearty Green Bean Soup with cilantro is a recipe I look forward to making when I have fresh green beans from the garden, anyone's garden.
Ingredients
2

cups

chopped onion

¼

cup

olive oil

4

cups

gluten free chicken stock

4

cups

water

1

can

tomatoes, diced

(14 oz/398 ml)

1

lb

green beans cut into ½ inch lengths

2½

cups

cauliflower, separated into small flowerets

½

lb

red potatoes, diced

1

teaspoon

salt

½

teaspoon

pepper

3

garlic cloves, crushed

1

cup

loosely packed cilantro

½

cup

grated Parmesan cheese

or 2-3 Parmesan rinds
Instructions
In a large soup pot heat oil over medium-low heat. Add onion and cook for 10 minutes, stirring occasionally.

Add stock, tomatoes and water. Bring to a boil.

Add beans, cauliflower, potatoes, salt and pepper. Bring back to a boil then reduce heat and simmer for 15 minutes.

Transfer 1½ cups of cooked vegetables plus ½ cup liquid to a 4-cup measuring cup. Add garlic and cilantro, puree until smooth. Pour mixture back into pot.

Add cheese and/or Parmesan rinds and simmer for 5-10 minutes.

Taste and adjust seasoning. Serve.