Zucchini Tomato Yellow Split Pea Dal is my favourite dal recipe. Not because I have ever done a side-by-side comparison with any other dal, just because I like the addition of veggies on top, it makes for a nice presentation and eating dal is always a healthy choice. I do try different dal recipes from time to time this Yellow Split Pea Dal is the one I would serve for a Gourmet Dinner Club with an East Indian theme.
What is dal you ask? Dal (dahl, daal or dhal) is a side dish or vegetarian main course, common in East Indian cuisine. The consistency of dal should be sort of sloppy or wet, unlike some dry curries you may have eaten. Dal can be made with lentils, peas or beans but in dal they are always split.
Fun Fact, Canada is the world's largest exporter of lentil and pea crops.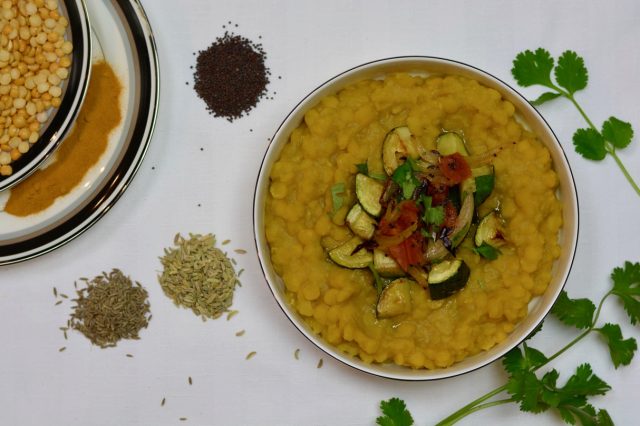 This post contains affiliate links. When you purchase using these links your cost is the same, but I receive a few cents for every dollar spent. I appreciate your support for this website.
Legumes, Pulses and Dal
Despite the fact that I love East Indian cuisine, have loads of delicious recipes and cook some of them on a regular basis, the difference between whole and split peas, beans and lentils is not crystal clear in my head. For the everyday home cook you don't need to know the finer points of these terms; dal, pulses or legumes. But you do need to know enough to choose and make a recipe. Here's a quick description.
Legumes refer to plants whose fruit is enclosed in a pod. Fresh beans, including soybeans, peas and peanuts are all legumes. Alfalfa and clover are also legumes.
Pulses specifically refer to the dried seed of a legume. Dried peas (like the split peas in this recipe), edible beans (like kidney beans), lentils and chickpeas are all pulses.
Dal refers to a split version of a pulse such as lentils, peas, chickpeas and more.
If you are interested in learning more visit Indiaphile and read this excellent post, Guide to Indian Lentils. It inspires me to cook more lentils…so many recipes, so little time. If you are ready to make dal here is a Canadian brand of yellow split peas available on Amazon.
---
More Recipes Using Pulses
I'd love to hear if you tried this Yellow Split Pea Dal or if you have a favourite dal recipe. Let me know in the comments below.
Zucchini Tomato Yellow Split Pea Dal
Zucchini Tomato Yellow Split Pea Dal is a long time favourite dal recipe. The spiced zucchini-tomato mixture on top is next level!
Ingredients
1

onion, quartered

2

jalapeños

(or 3 serrano chiles)

½

cup

water

1-inch

piece fresh ginger, peeled and roughly chopped

2

large cloves garlic

6

cups

water

1

lb

yellow split peas, rinsed

6

whole cloves

2

bay leaves

1½

inch

piece cinnamon stick

½

teaspoon

turmeric

1

teaspoon

salt
ZUCCHINI TOPPING
6

tablespoon

vegetable oil

2

zucchini, cut in 1-inch cubes
TOMATO TOPPING
1

teaspoon

mustard seeds

1

teaspoon

fennel seeds

1

teaspoon

cumin seeds

½

onion, thinly sliced

2-3

tomatoes, chopped

½

cup

chopped cilantro
Instructions
Combine onion, jalapeños, water, ginger and garlic in food processor and puree.

Pour puree into a large pot and add water, yellow split peas, cloves, bay leaves, cinnamon, turmeric and salt. Bring to a boil. Reduce heat and simmer, partially covered, until peas are tender, 35-40 minutes. Discard cloves, bay leaves and cinnamon. Cover and set aside.
ZUCCHINI
Heat oil in skillet over high heat. Add zucchini and cook until brown, about 2 minutes. Stir and cook another 2-3 minutes. Season with salt. Put on top of dal without stirring.
TOMATOES
Heat oil in skillet over high heat.

Add mustard seeds. When they begin to sputter and fennel and cumin seeds. Use a lid to contain the mustard seeds if needed. Stir spices until brown, about 2 minutes.

Add onion and cook until dark brown, stirring frequently, about 5 minutes.

Add tomatoes to skillet and cook until warm and softened, about 3 minutes. Mound on top of zucchini.

Sprinkle with cilantro and serve.
Notes
*This is a big recipe. I sometimes make half the yellow split pea part but I still make the full amount of zucchini and tomatoes because I like it so much. Adjust to your liking.