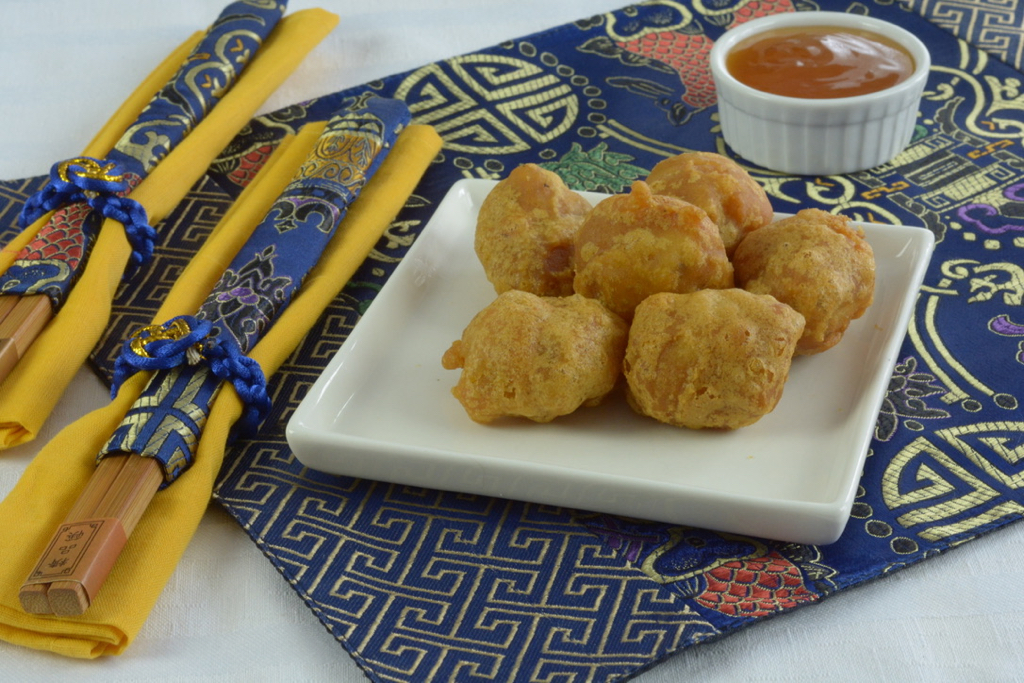 Description
My husband has been asking me to make Chinese Chicken Balls with plum sauce. He has fond memories of this dish from the one Chinese restaurant in the small town where he grew up. My childhood memories are of a Chinese take-out dish of chicken balls and pineapple in a red coloured sweet sauce. Jim wanted the sauce on the side so that's what we made. Finding a jar of plum sauce with no gluten containing ingredients was easy.
Tips For Crispy Gluten Free Batter
I have one recipe for gluten free batter so it was the obvious choice for my chicken balls. Over the years I've learned a few tricks for deep frying and so my Chinese Chicken Balls were perfect on the first try. Here's what you need to know:
Letting the batter rest for 30 minutes allows the gluten free flour and starch to fully absorb the liquid.
The high starch content of most gluten free flour blends creates a tough batter. The combination of brown rice flour and cornstarch creates a crunchiness with a smooth texture.
Club soda and baking powder help lighten up the batter.
Dredging the pieces in cornstarch first helps the batter adhere to the meat.
Double frying creates a sturdy, crunchy, golden crust.
PIN for later…
This post contains affiliate links. When you purchase using these links your cost is the same, but I receive a few cents for every dollar spent. I appreciate your support for this website.
Deep Frying at Home
Deep frying food at home is a task many people avoid because they think it's difficult. It's not difficult; it simply requires a set up. Some people buy a deep fryer as soon as they go gluten free to safely enjoy foods they like at home. I've never owned one but it sounds like a great option. Others are raving about the new air-fryer and posting photos of the food they've cooked. In my kitchen I'm sticking with my tried and true method of deep-frying in my wok.
You get to decide what works best for you but don't deprive yourself of anything you want to eat. Whether you deep fry every week or twice a year, a healthy gluten free lifestyle needs to include food that feeds your heart and soul, not just your appetite.
Get The Tools for Deep Frying
I created a set up to deep fry in my wok and I've written about it in the recipe description of several posts. For the best step-by-step instructions check out the post for Battered Fish and Chips. If you're ready to deep fry here are some tools to consider.
Seasonal Strategy
Cooking with a seasonal strategy is the best way I know include variety in your diet. As you learn what's in season you can repeat favourite dishes at certain times of the year. There's no reason to ever be bored on a gluten free diet, just chose more dishes.
Once you include holidays into that seasonal strategy your meal rotation will expand again. Holidays are associated with traditional and non-traditional dishes so there is no end to ideas of what to eat. Chinese New Year is what got me thinking of some of my old favourites.
Chinese New Year always falls between January 21 and February 21. I don't typically have a party to mark the occasion but it's a good reason to make something different. Whether it's simple or elaborate, pick something that sounds exciting to you and have fun making it.
I'd love to hear in the comments below if you made these Chinese Chicken Balls and what you learned.
---
If you're new here join our community and get your FREE resource for baking and cooking, 29 Tips I wish I knew when I started.
Yes, I need 29 Tips For Cooking with Gluten Free Flour.
New to gluten free? Check out our virtual and in-person Cooking Classes or visit NEW TO GLUTEN FREE.
---
More Recipes – Chinese and Asian Fusion
Click on the text on the image(s) to go to the recipe/blog post.
Ingredients
BATTER
1 cup brown rice flour
½ cup cornstarch
1 tsp baking powder
½ tsp baking soda
1½ tsp salt
⅛ tsp pepper
1-1¼ cups club soda
CHICKEN
2 boneless, skinless chicken breasts cut into bite size pieces (I got 36 pieces)
¼ cup cornstarch for coating
salt and pepper
DEEP-FRYING - 4-6 cups vegetable oil
SAUCE – store bought gluten free plum sauce
Directions
1

BATTER

2

Combine brown rice flour, cornstarch, baking powder, baking soda, salt and pepper in a large bowl. Whisk to combine.

3

Whisk in club soda stirring until no lumps remain.

4

Cover bowl with a plate and let sit at room temperature for 30 minutes while you prepare everything else.

5

CHICKEN

6

Put cornstarch in shallow bowl and season with salt and pepper.

7

Pat chicken pieces dry with paper towel then dredge in cornstarch shaking off excess. Transfer to clean plate.

8

Pour oil in wok and heat to 375°F.

9

Prepare paper towel lined plate to set chicken balls on when removed from oil.

10

Prepare a baking sheet with metal rack and preheat oven to 200°F to keep chicken warm before serving.

11

TWICE-FRIED METHOD

12

Dip chicken into batter letting excess drip back into the bowl. Place into hot oil and fry for 1 minute. Work with about 10 pieces at a time allowing space for each piece to cook evenly. Allow the oil to come back to 375°F before starting the next batch. Repeat until all chicken is cooked once.

13

Repeat the whole process. Dip the battered chicken into the batter again, cook until golden brown, about 2 minutes. Set onto paper towel lined plate. Transfer to prepared baking sheet and keep warm in preheated oven until ready to serve.