Description
The original recipe for these banana muffins was one of the first successful gluten free muffins I made and at that time I made them with only white rice flour. I'm still surprised the recipe worked!
At that point I had made many batches of muffins with disappointing results. Some with a gritty texture, an unusual taste and even weird swirling shapes. Finally it was satisfying to have a reliable, decent tasting and nice looking muffin.
Over time I continued to make these banana muffins. As I gained more gluten free baking experience I wanted to improve them for three reasons:
While they were good I felt like the taste could still be improved.
The muffins were too delicate to stay together if tossed around in my lunch bag.
They didn't freeze well and I was used to making muffins once every two weeks and freezing them.
As I learned more about the properties of different flours and starches I experimented. I tried them with and without xanthan gum (a binder) and I accidentally baked them at 350°F (the default setting for my oven). I still make that mistake but I know they brown nicest and cooks fully at a slightly lower temperature.
Bake And Learn
This updated version for my banana muffins is a basic recipe that is ideal for experimenting. I've written it with that in mind and I encourage you to experiment. Substitute two tablespoons of any flour you have. As you gain confidence try substituting ¼ cup or more of different flours. Make notes of what you did and how they turned out.
Beyond The Basics
There is so much to learn about gluten free baking and especially all the gluten free flour options available. My advice is don't worry about it, just bake with what you know today. Pay attention to what you read and hear but most importantly, pay attention to your results. At the end of the day it's you eating most of what you bake.
If you're keen to know more about all the gluten free flours this is how I learned. I wrote a yearlong blog post series using all the different flours in my kitchen. Over the year I learned a lot and as a result I'm more confident substituting as needed.
The first post in my yearlong blog series is titled, How To Use Rice Flour in Gluten Free Baking. At the bottom of each of the 12 blog posts you'll find links to all the rest of them. So if you're ready to learn more chose a flour each month and do some experibaking!
Store Bought vs Homemade Gluten Free Flour
Store bought gluten free flour mixes are a lifesaver for many so don't shy away from them. I decided to stick with the basics so I don't buy flour blends, I just make my own. When I first began to cook I realized the ingredients for even a simple pancake recipe were already in my kitchen so I avoided prepared mixes and just mix my own. The move to gluten free changes everything so do what's right for you. I have a cupboard full of different flours and starches so I bake and learn all the time.
If you're interested in making your own blends I use a combination of 40% whole grain flour (sorghum and millet) and 60% starch (sweet rice flour and potato starch). My recipe post has tips on making, organizing and storing my flour blend.
Making My EGFG Flour Blend on YouTube
Here's my YouTube video on this topic or you can read more in the post (link at bottom of this page).
Baking By Weight
In my blog post titled Baking by Weight, I talk about the accuracy of using a scale and weighing your flour. This is a great option if you are still struggling to produce excellent baked goods. The problem is, most recipes give cup measurements. I learned to bake using cups so that's how I write my recipes but I do use a digital kitchen scale to make my flour mix. This ensures accurately so the mix is consistently the same. This step is super easy yet getting set up is the key and takes work. You can see how I do all that in the video above.
Kids in the Kitchen
If your kids love eating these banana muffins be sure to let them help. Young children love to put paper liners in muffin tins, measure flour and chocolate chips, crack eggs and mash bananas. This is a wonderful way to spend a Saturday morning and you will be sure to create some lasting childhood memories. If you're lucky, you will eventually have someone making muffins for you.
Everyday to Gourmet – Banana Muffins
I love to transform an everyday recipe into something 'gourmet'. When doubled and baked in a bundt pan this muffin recipe makes a beautiful dessert. Technically cake is different from muffins but for my everyday style of cooking, this Banana Bundt Cake with Chocolate Glaze or cream cheese icing is definitely a winner. 
PIN Banana Muffins for later…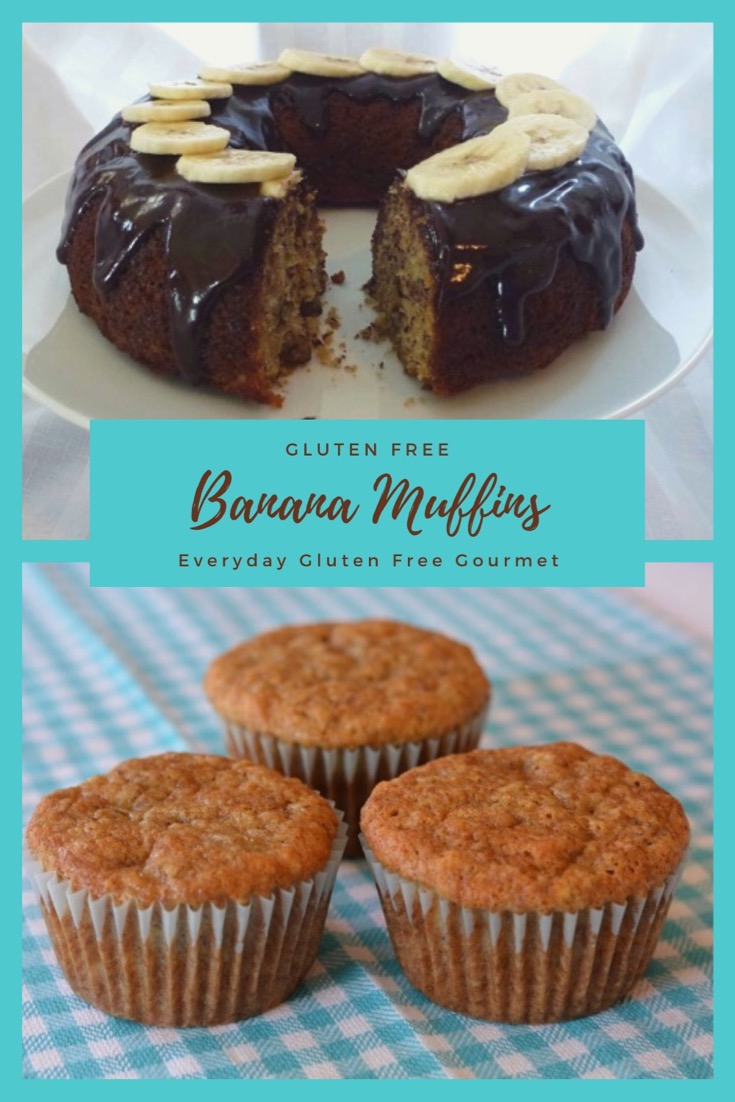 This post contains affiliate links. When you purchase using these links your cost is the same, but I receive a few cents for every dollar spent. I appreciate your support for this website.
Get The Tools
Many people struggle with baking. Every oven is different, standard baking pans vary and even your kitchen temperature and humidity can affect the outcome of baked goods. These are just some of the factors that challenge us everyday home cooks. But when you bake something that turns out, you know the joy of baking.
My advice is to buy quality bakeware, not the most expensive but not the cheapest either. Many baking pans and tools will last decades. Then it's up to you to get in the kitchen, bake up a storm, make a few notes and keep your favourite recipes. Here are a few tools for baking muffins:
I'd love to hear if you liked this recipe or how you adjusted it. Let me know in the comments below.
---
More Muffin Recipes
Banana Muffins
One of the first gluten free recipes I made that actually worked! Now I make this recipe with my blend plus a bit of another flour to experiment and learn.
Ingredients
DRY INGREDIENTS
1¼

cups

EGFG gluten free flour blend*

(163 g)

2

Tbsp

any flour you're learning about

(oat flour, almond, coconut, teff, buckwheat etc)

½

cup

sugar

¾

tsp

baking powder

½

tsp

baking soda

¼

tsp

salt
WET INGREDIENTS
3

ripe bananas

2

eggs

¼

cup

vegetable oil

1

tsp

vanilla
OPTIONAL ADD INS
¼

cup

chopped nuts, chocolate chips, coconut, dried pineapple etc.
Instructions
Prepare muffin tins with paper liners or spray with oil.

Combine all dry ingredients in a bowl. Set aside.

In another bowl mash bananas, add other wet ingredients and mix thoroughly.

Add wet ingredients to dry ingredients. Stir until combined.

Fill muffin cups ¾ full. Bake for 22-24 minutes, a bit longer than "until a toothpick inserted comes out clean". Note the time in your oven.

Cool in the pan for 2 minutes then transfer to rack and cool completely.

Store in airtight container. Freeze if not eating within a few days.
Notes
*EGFG flour blend: 300g sweet rice flour, 300g potato starch, 200g sorghum flour, 200g millet flour (makes ~8 cups)
GF Baking Tip - 

The structure of gluten free baked goods strengthens during the cooling time. If you taste your baking too soon it may seem gummy or undercooked. To speed up your learning note the baking time for each recipe then refer to your own notes next time you repeat it.