Description
Cornbread is comfort food for me. My mom made cornbread that wasn't gluten free but this cornbread tastes just like I remember. This recipe is made with corn flour and cornmeal and has a few important steps for gluten free bakers.
As kids we loved to eat our cornbread warm from the oven, covered in a thick layer of corn syrup, just like you see it in the photo. And now, many years later, that is exactly how my son likes it. Personally, I prefer the cornbread muffin version made with raspberries or blueberries.
PIN Gluten Free Cornbread for later…
This post contains affiliate links. When you purchase using these links your cost is the same, but I receive a few cents for every dollar spent. I appreciate your support for this website.
A Versastile Recipe
I have hundreds of great recipes, fantastic recipes, amazing to-die-for recipes. So many in fact, that I can't even repeat them all in the course of one year. Many of those recipes I make just as they are written.
Then I have a smaller collection of versatile recipes. These are recipes that can be made with some variation from season to season. This cornbread recipe is like that. It can be made sweet or savoury, as muffins, a loaf or even in my cast iron, molded corn-stick pan. I have even made it over the fire when camping (a very long time ago). This is also the recipe I use for my turkey stuffing. Now that's what I call a versatile recipe.
Sometimes I call these recipes a basic recipe. For me there are a few more requirements and they are:
I can find the recipe in 30 seconds or less
It works in my kitchen every time
I can confirm I have the ingredients in less than a minute
Organize For Success – Cornbread
To perfect a recipe you likely need to make a few notes. Baking has a lot of variables plus every home cook measures ingredients a bit differently. The most basic rule of baking is to follow the recipe. If you are not entirely satisfied with the results of your baking pay more attention to some of the details. Then write down what you did.
If you are on a gluten free diet or cook for someone who is gluten free there is no better reason than that to start learning. Gluten free baking has some new rules to learn but it is possible to bake fabulous gluten free food. You simply need to be willing to learn.
Cornmeal vs Corn Flour
I have a year-long blog post series on How To Use different gluten free flours including this one, How To Use Corn Flour, Cornmeal and Masa Harina. But all you really need to know to make excellent cornbread is that cornmeal and corn flour are not the same. Cornmeal has a specific texture that some people love. Corn flour is further processed to a fine powder similar to other flours.
Traditional cornbread recipes often call for a combination of cornmeal and wheat flour. Corn flour is an excellent substitute for the wheat flour. Although cornmeal and corn flour are both gluten free always read the label. Some brands are made in a facility with wheat so are not safe for those on a gluten free diet.
I'd love to hear about your favourite variation in the comments below.
_______________________________________________________________
More Gluten Free Cornbread Recipes
Cornbread lends itself to everything from raspberries to bacon. Here are some of my favourite variations.
CORNMEAL RASPBERRY MUFFINS – Add 1 cup fresh or frozen blueberries, 1 tablespoon of lemon zest and increase the sugar by 3 or 4 tablespoons.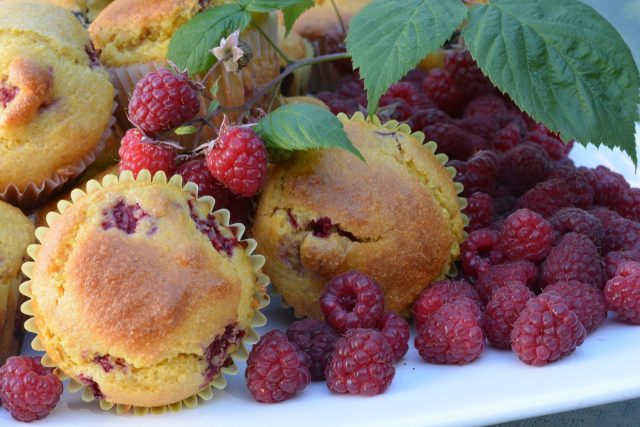 JALAPEÑO CHEDDAR CORNBREAD – Jalapeño jelly adds zip and sweetness to cornbread. Add 1 cup of grated cheddar cheese to the batter and pour half the batter into your pan. Drop blobs of jalapeño jelly all over, then top with the remaining batter and bake as usual.
CHEDDAR CORN STICKS – Add 1 cup of shredded cheddar cheese to the cornbread batter. Bake in cast iron molded corn-stick pan for a less common but impressive presentation. Serve with homemade chili or a hearty soup.
CORNBREAD CHORIZO STUFFING – For my turkey stuffing I double this gluten free cornbread recipe and then combine it with all the deliciousness of a sausage stuffing. It is then stuffed into an Achiote Butter Basted Turkey for Thanksgiving, Christmas or Christmas in July. And FYI – the ancho chile gravy, thickened with masa harina, is amazing.
CORNBREAD SAUSAGE STUFFING BALLS –  An appetizer everyone loves and just another reason to eat more stuffing. I serve them with gravy!
Cornbread
This is my basic cornbread recipe that I vary slightly to make muffins, cornbread-sausage stuffing for my turkey and stuffing balls.
Ingredients
DRY INGREDIENTS
1

cup

cornmeal

¾

cup

corn flour

½

cup

tapioca starch

⅓

cup

sugar

1½

Tbsp

baking powder

½

tsp

xanthan gum

½

tsp

salt
WET INGREDIENTS
1

egg

⅓

cup

vegetable oil

1

cup

milk

(I use 1% or 2%)
Instructions
Preheat oven to 400°F. Lightly grease 8" x 8" cake pan, loaf pan or line muffin pan with 12 paper liners.
DRY INGREDIENTS
Mix dry ingredients in a bowl. Set aside.
WET INGREDIENTS
Combine wet ingredients in a large bowl of an electric mixer. Beat until frothy, about 1 minute.

With mixer running slowly add dry ingredients to wet. When combined increase speed to high and mix for 1 minute.

Fold in an optional add-ins if using. (See notes for suggestions.)

Pour into prepared pan or muffin tin. Bake 20-25 minutes until slightly golden around the edges. Cool on wire rack for 5 minutes, cut and serve warm.

Store in airtight container or freeze.
Notes
OPTIONAL ADD-INS - crumbled bacon, grated cheddar cheese, corn, jalapeno jelly or crab apple jelly.