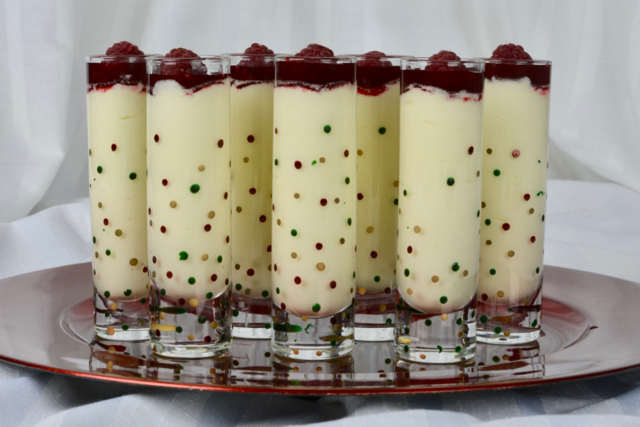 Description
White Chocolate Mousse topped with just a dot of raspberry sauce and a single raspberry was one of those accidental creations that got rave reviews at a recent birthday party. I wanted an easy dessert that could be made in advance, was naturally gluten free and could be served in small portions on a buffet.
Chocolate mousse is what I decided on and I created a festive and fun presentation. I served three variations in a variety of liqueur glasses displayed on pedestal trays with little signs. I found those tiny disposable spoons at the Dollar Store and I recommend you buy them when you see them. They are perfect to serve with mousse shots.
PIN for later…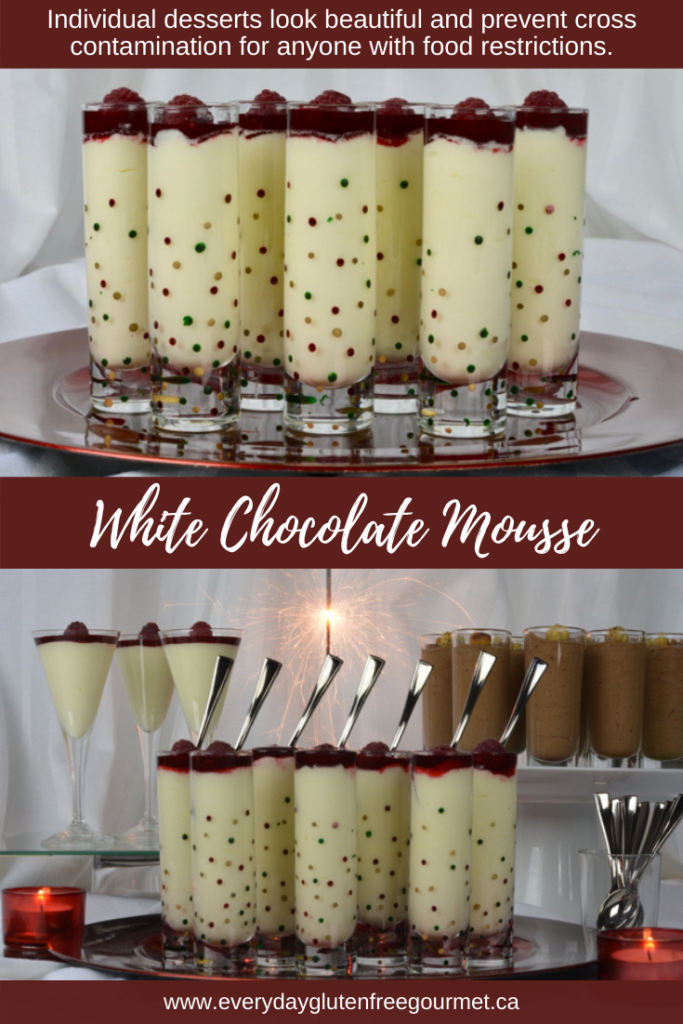 This post contains affiliate links. When you purchase using these links your cost is the same, but I receive a few cents for every dollar spent. I appreciate your support for this website.
Mousse vs Pudding
Although mousse and pudding are similar in texture, mousse is light and fluffy. The lightness comes from whipping air into the mixture and is achieved by folding whipped egg whites or whipped cream into the base mixture. I think you can do whatever you want so if you prefer pudding and serve it in a shot glass everyone will eat it.
From Everyday to Gourmet – White Chocolate Mousse
I have a dozen shot glasses so I needed to borrow some. I was lucky enough to get these glasses covered in coloured dots from a friend. The white chocolate mousse was ideal to highlight the pattern. Then the accident happened.
How would I garnish these tiny glasses? Looking at my red charger plates that I pull out every Christmas I remembered my stash of raspberries in the freezer. I always freeze some freshly picked raspberries in August without knowing exactly how I will use them. I knew I could put a single frozen raspberry on top of each mousse shot and it would thaw by the time they were served.
Then, while reorganizing in the fridge to find space I found some homemade raspberry syrup that I made in August. A dot of raspberry syrup wasn't necessary but it seemed to top it off perfectly and tasted just as delicious as it was the day I made it. (Thanks to sugar and impeccable cross contamination measures – always use a clean utensil to dip in the jar.)
Let me know in the comments below if you tried this idea or served something else in shot glasses.
---
More Recipes – Creamy Desserts
Ingredients
7 oz white chocolate
2 egg yolks
2 Tbsp sugar
¼ cup whipping cream (first amount)
1 cup whipping cream (second amount)
GARNISH – raspberry syrup and raspberries
Directions
1

Chop chocolate and put into large glass bowl. Place a strainer over top of the bowl and set aside.

2

In a small bowl of a stand mixer whisk egg yolks and sugar until pale, about 2 minutes. Set aside.

3

Pour first amount of cream into a small saucepan, place over low heat and bring to a simmer.

4

Slowly pour hot cream into egg yolk on low speed to avoid cooking the eggs.

5

Pour mixture back into the saucepan on low heat and stir with until it thickens slightly.

6

Pour hot egg mixture into the strainer over the chocolate. Using a spatula press on the solids in the strainer then scrap the mixture from the bottom of the strainer into the bowl. Remove the strainer and stir constantly until the mixture is smooth and all chocolate is melted. Set aside.

7

In the small bowl of a stand mixer whip the whipping cream until stiff peaks form. Fold half the whipping cream into the chocolate mixture to lighten. Then fold in remaining whipping cream until smooth.

8

Divide white chocolate mousse into shot glasses, liqueur glasses, sherry glasses or martini classes. Refrigerate for 1 hour.

9

Top with a tiny amount of raspberry syrup and a single raspberry and serve.