Stress Free Everyday Meals on a gluten free diet, does that sound like a dream?
Do you imagine that only the ultra organized, menu planners of the world can achieve this? As much as I like the idea of menu planning for the week it just doesn't work for me. I've got an endless supply of ideas in my head to help you get more everyday home cooked meals on the table.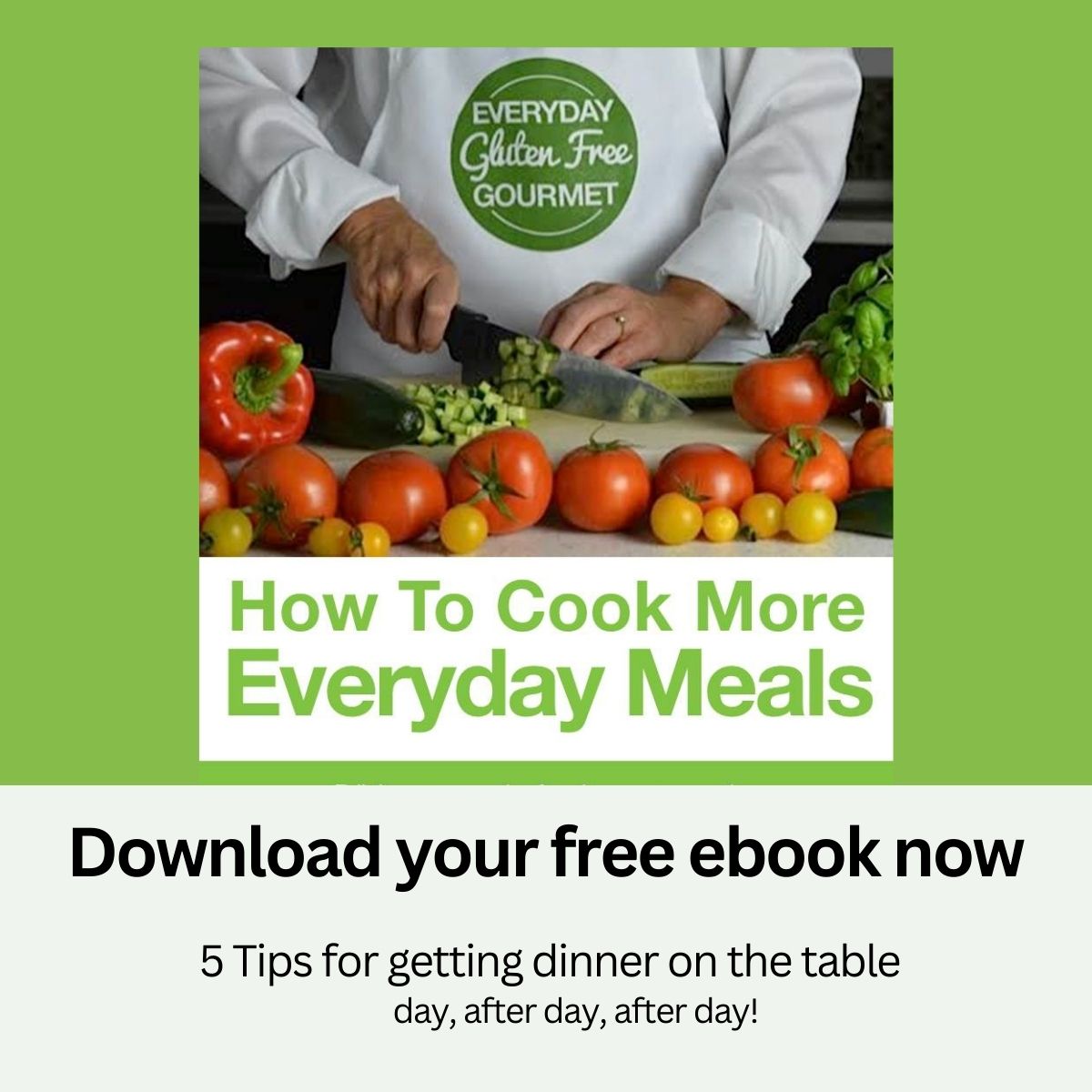 This post contains affiliate links. When you purchase using these links your cost is the same, but I receive a few cents for every dollar spent. I appreciate your support for this website.
What's for Dinner?
Michael Pollan, American author, journalist and food activist, asks us to learn more about what we eat. From his little book titled Food Rules the first rule is Eat Food. Not pre-seasoned, packaged, prepared, processed food-like substances. Not reheating something out of a box. Just plain old everyday cooking. For the health of it.
Remembering why you want everyday home cooked meals is a great place to start. After that it's all about the process. Recipes are everywhere and every food imaginable is available. Your kitchen can, and may already be, reasonably well stocked.
So what are the barriers to getting dinner on the table in your house? Are you always out of important ingredients? Are you bored with your menu and feel like you need new ideas? Is cooking just too much effort?
Spend a few minutes to figure out what small changes would have the biggest impact in your kitchen. I altered the popular acronym K.I.S.S. to stand for Keep It Simple and Safe. This worthwhile exercise can be repeated remembering small changes over time is how you create a gluten free lifestyle you love.
What step can you take this week that will get you closer to where you want to be?
This is more mindset than meal prep and I've broken down the thinking process into six categories:
Enthusiasm in the Kitchen
Grocery Shopping
Stocking Your Gluten Free Pantry
Best Tools for an Organized Kitchen
What's Your Cooking Style
How To Get More Variety in a Gluten Free Diet
Enthusiasm in The Kitchen
If you think cooking is a chore you're doomed. If you are teaching your kids the same message you are doubly doomed. You can change your mind about this whenever you want. Cooking is a life skill. It can be fun and it can be easy. It can also be challenging and rewarding. Producers of food-in-a-box imply that home cooking is a chore. But many people would say it is a stress reliever. It can help take your mind off of a busy day or a lengthy To Do list. Your kitchen does not need to be like the pressure cooker you see on TV.
Grocery Shopping
As with everything in life the only thing you can change is your perspective. Do you think 'how is it possible to have a full fridge and yet it seems like nothing to eat'? Shopping again? Lean into the idea that you get to choose every ingredient you buy. Spend a little more time planning and a little less time shopping. Include time to repackage some foods into smaller, useable portions. Label items for the freezer with the name of the dish you have in mind.
You need fresh produce for a healthy diet. Make sure your grocery shopping includes some root vegetables that have a longer shelf life and both frozen and canned food that you like. If you like raw veggies, salads or cooked vegetables focus on the variety you need and replenish with that in mind. More everyday cooking helps keep all the food moving. Whether you shop every day or once a week is not the point. Figure out the least stressful, most enjoyable way to get the job done and do it with a smile on your face.
Stocking Your Gluten Free Pantry
Find the balance of enough food in your kitchen that you can cook but not so much that you can't find things easily. Divide, separate, label and organize until you get there. Then divide, separate, label and organize again. For me the goal is spending no more than one minute checking to make sure I have the ingredients I need for any dinner.
Best Tools for an Organized Kitchen
This is a personal thing but a reasonably organized kitchen space and the tools of the trade certainly make cooking enjoyable. Designated areas where gluten is allowed may make stress free everyday meals possible. Figure out what bugs you then fix it. The small effort this takes will pay off day after day for years to come. Remember, baby steps. Being organized and respectful will help set you up for success.
What's Your Cooking Style
Do you know your cooking style? What dishes are easy for you to make? Making more of the dishes you enjoy will by default make the daily tasks more enjoyable. Make stress free everyday meals a goal and encourage other family members to contribute to the plan.
Slow Cooking
My husband likes to make soups and stews. He can make them on a weekend afternoon or a free evening. I always encourage him to double the recipe so another meal can be put in the freezer. We are not slow-cooker people but if that works for you do it.
Oven Baked Dishes
Depending on your schedule you might like dishes where you combine a few ingredients, pour the sauce over something and toss it in the oven. Sticky Apricot Chicken and Cranberry Orange Chicken are those kind of recipes and they freeze well. I always make enough for two meals.
Stove-Top Cooking
Apparently I can make a stir-fry when others claim there is no food in the fridge. I've got a well-stocked pantry and a recipe card taped inside the cupboard door right by the stove with my favourite everyday stir-fry recipe. If I don't want Asian then I can make some variation of easy pasta dishes like this Butternut Squash and Pancetta Penne or Chicken Pesto Pasta.
Grilling
In Canada we call it 'barbecue'. Both summer and winter many Canadians use their barbecues. In cold weather it is commonly moved to within reaching distance of a door with a light strung up to allow cooking in the dark. If this sounds like your house then you need a variety of sauces and rubs like this adobo paste.
An ebook: How To Cook More Everyday Meals
How To Get Variety in a Gluten Free Diet
No matter what you like to cook experience comes from trying. While gluten free baking requires new knowledge, cooking stress free everyday meals is more about systems. A little planning and a well stocked pantry will pay off. If you want to recreate your masterpiece, take notes.
If you thought about it you could likely name some easy, reliable recipes you like but just haven't made for a while. Make an index card with five seasonal recipe ideas or list some old favourites. Set a goal to make each of those recipes before the season is up. Or make a new Top 10 recipe list. Tape it to the inside of a cupboard door where you will see it. When you don't see it anymore make a new list or move it. A reminder note in your phone with that same list might work too but I like the visual reminder inside a cupboard door.
Stress is not all bad but the idea here is to fit cooking into your life in an enjoyable way. Have fun, learn new things and make gluten free food the whole family wants to eat.
So what are you making for dinner this week? In the comments below I'd love to hear if there is an idea here that inspired you or if you have your own tip to share.
__________________________________________________________________________________________
New here? Join our community and get your FREE resource, the tips I wish I knew when I started cooking gluten free.
Yes, I need 29 Tips For Cooking with Gluten Free Flour.
Still haven't mastered gluten free cooking? Check out our online Cooking Classes.
More Lifestyle Posts