How To Use Chickpea Flour is seventh in my 12-part series on gluten free flour. Each post includes the properties and best uses for that flour. You can see the full list at the bottom of this post.
The idea for this series is to learn to use the flours you like to make foods you enjoy. Depending on how you cook those choices will be different for every person. Putting some thought into that will help improve your results and likely your happiness in the kitchen.
In previous posts I have covered what I consider to be the common flours and starches that you often purchase or hear about when you're new to gluten free. Rice flour might be the most common but there are many more options.
After getting comfortable making muffins, brownies, cookies and cake I wanted to know what cooks around the world were making. I too dismissed 'bean flour' that is in some flour blends because I didn't want a bean taste in my cookies.
Yet I like beans and I eat beans so bean flour wasn't off my list completely.
PIN for later...
This post contains affiliate links. When you purchase using these links your cost is the same, but I receive a few cents for every dollar spent. I appreciate your support for this website.
Bean Flour Facts
Chickpeas are a legume, the family that includes beans and peas, so chickpea flour is a bean flour. People love hummus, falafel balls and many dishes made with chickpeas so it has it's place. I encourage you to keep an open mind.
In South Asia, especially the cuisines of India, Pakistan and Bangladesh, chickpea flour has been a staple for hundreds of years used in many different ways. I love exploring the foods of different cultures and am interested in learning about traditional ways different flours are used.
I've used chickpea flour for decades to make those delicious vegetable fritters called pakora. It was in my cupboard so when I saw an allergy friendly recipe contest I made the banana bread they included. This high fibre Double Chocolate Banana Bread made with chickpea flour and tapioca starch is moist and delicious. The chocolate disguised the taste and it was a keeper.
Gluten free recipes have come a long way in the last decade and I see home cooks baking muffins, cookies and quick breads using chickpea flour.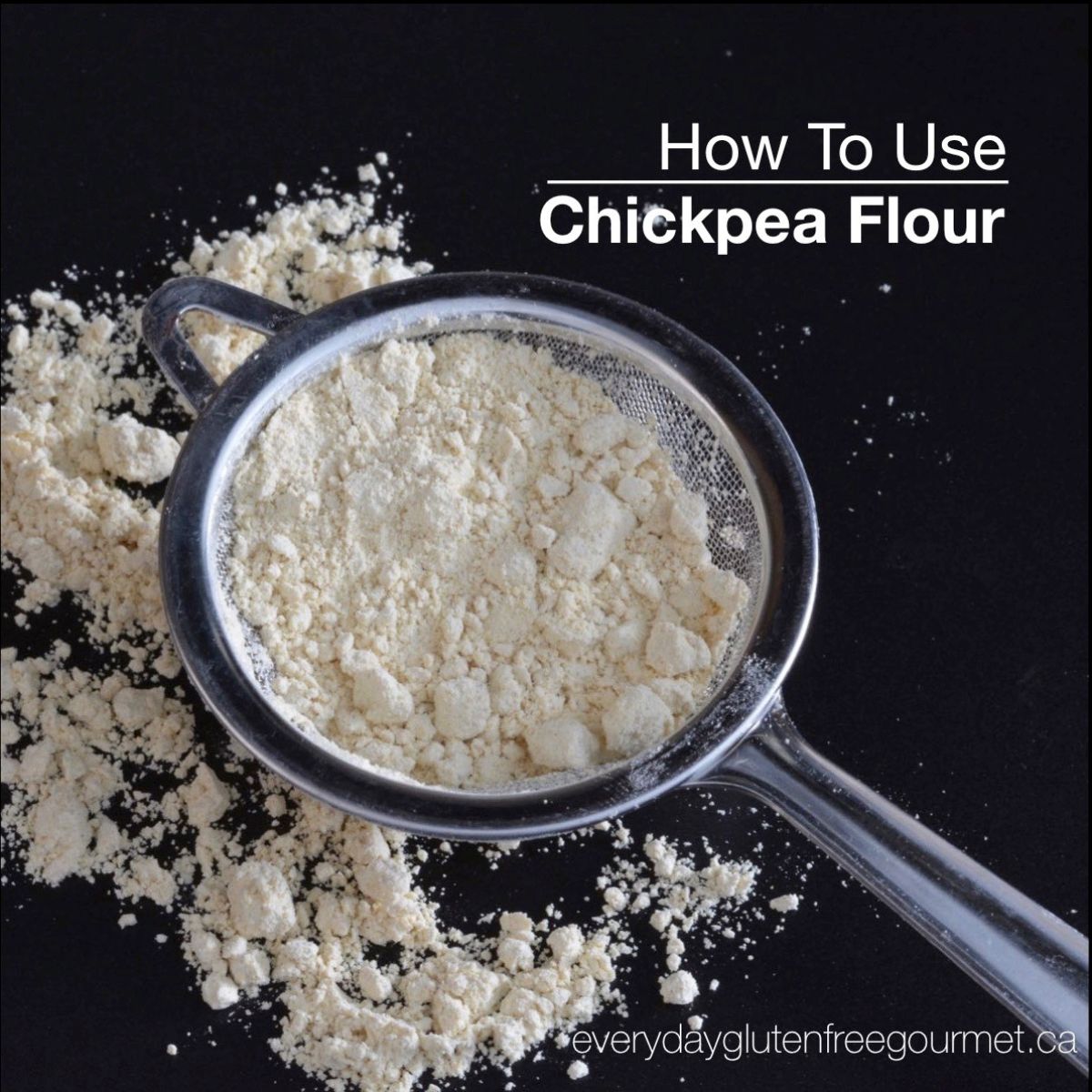 Buying Chickpea Flour
In the old days people talked about 'flour', like it was a single ingredient. In the gluten free world there are more flours than I ever dreamed of and you can't help but continue to learn.
Not only are there many different pea and bean flours but there are varieties of chickpeas. This means when you look for chickpea flour it may be labelled with a different name. Note that these are all chickpea flour, not a blend of several bean flours.
Chickpea flour
Garbanzo bean flour
Gram flour
Chana flour
These products may vary in taste but for my everyday style of cooking I've had success with any one I've ever bought. Certified gluten free chickpea flour is not hard to find. Online I saw these brands;
Properties of Chickpea Flour
Made from dried chickpeas it is pale, yellow or beige in colour
High in protein, fibre and nutrients with it's own unique taste
Too much can give baking an unpleasant bean taste
In Indian food shops I have only seen the beige or pale yellow chickpea flour. In my research I learned about dark brown and black chickpeas used to make Bengal gram flour.
"The more I know, the more I realize I don't know."

Albert Einstein
Best Uses
Middle eastern specialties
Flatbreads
Mediterranean Socca
Watch on YouTube: How To Use Chickpea Flour
Recipes Using Chickpea Flour
Here's a small sample of traditional uses for chickpea flour that focus on its' unique taste and properties.
Many cooks use chickpea flour creatively in recipes for everything from cookies to pancakes so give it a try.
Double Chocolate Banana Bread is delicious and has no bean taste, an excellent high fibre snack for kids of all ages.
As an egg replacement in vegan cooking when mixed with equal amounts of water and flour (I've never tried it but someone out there wants to).
Socca is like a blank canvas. I've made many versions of pizza with socca and I love this interpretation by Sasha over at Eat Love Eats, Tandoori Sweet Potato Socca Pizzas.
Gordon over at Gluten Free Daddy posted this collection of 25 recipes made with chickpea flour, Garbanzo Bean Flour recipes.
For more than the everyday cook would ever need to know, I found this excellent post by Neetu over at Simple Gluten Free Kitchen, titled Types of Chickpeas & Flours.
Dinner Club: An East Indian Menu
I hope you're intrigued to try chickpea flour. I suggest you get together with some friends and cook a Middle Eastern or East Indian menu to explore the flavours of these cuisines. Chickpea flour will surely be included.
I'd love to hear what you make with chickpea flour or if I inspired you to try it. Let me know in the comments below.
Happy cooking!
Originally posted 2018, updated November 2022.
---
__________________________________________________________________________
New here? Join our community and get your FREE resource, the tips I wish I knew when I started cooking gluten free.
Yes, I need 29 Tips For Cooking with Gluten Free Flour.
Still haven't mastered gluten free cooking? Check out our online Cooking Classes.
_________________________________________________________________________
This is the seventh in a series of blog posts on gluten free flours. My intention is to provide a basic overview of several gluten free flours for the everyday home cook, both new and experienced. Let me know in the comments below if you have a specific problem with your baking or a tip you'd like to share.
How To Use Chickpea Flour