How To Use Coconut Flour is 10th in my monthly blog post series on gluten free flour. You can see the full list of posts at the bottom of this page. The idea is to learn to use the flours you like, to make foods you enjoy. As you notice what kind of recipes you like to make in your own kitchen you can focus on them and improve your results.
This series of blog posts started when I wanted to create a resource for my subscribers, a downloadable chart with tips for using different flours. When I began to write this series I never thought beyond six different flours but as I learned and shared I was inspired to keep going. Everyone has different preferences and dietary needs so despite the cons I had heard about coconut flour I set out to learn about its' benefits.
PIN for later…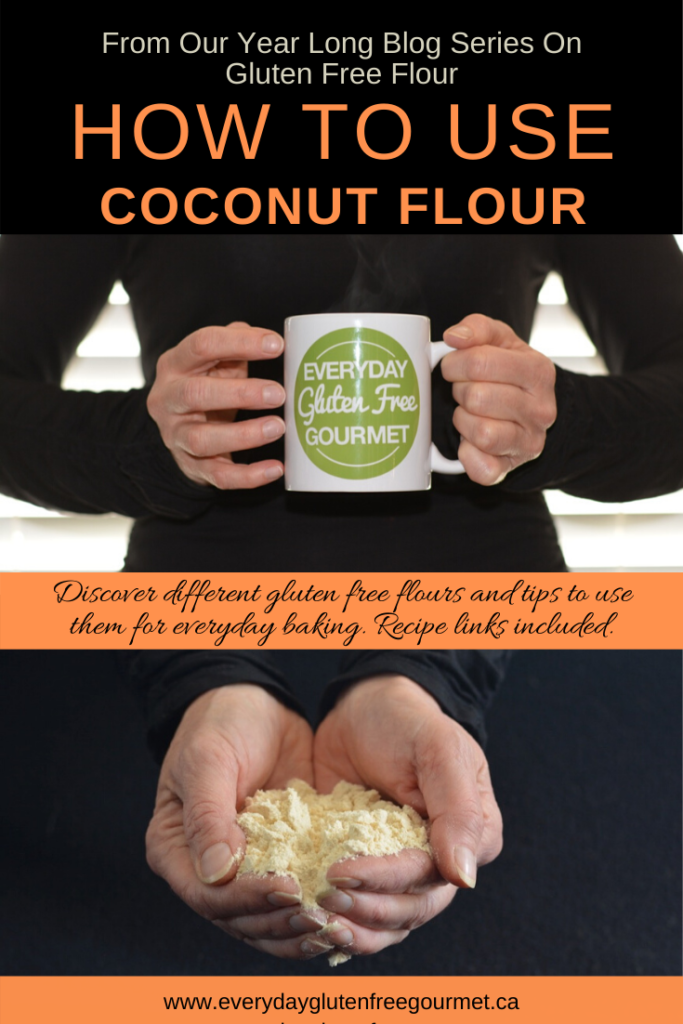 This post contains affiliate links. When you purchase using these links your cost is the same, but I receive a few cents for every dollar spent. I appreciate your support for this website.
A Difficult Flour
Coconut flour is difficult to work with. Both gluten free and non-gluten free bakers will tell you this right up front. So do we really need it? The answer is of course not. But gluten free bakers need options for other dietary needs or may be interested in the health benefits so give it a try and see what you think.
I bought coconut flour when I had no idea what gluten free flours I wanted to use. It kept showing up in recipes I looked at, I started to see coconut products everywhere and decided I must need it. However, after using it in a few forgettable recipes my coconut flour got left at the back of the cupboard in that bucket of forgotten flours. I read about the challenges of working with it and decided it was easier to keep working with other flours.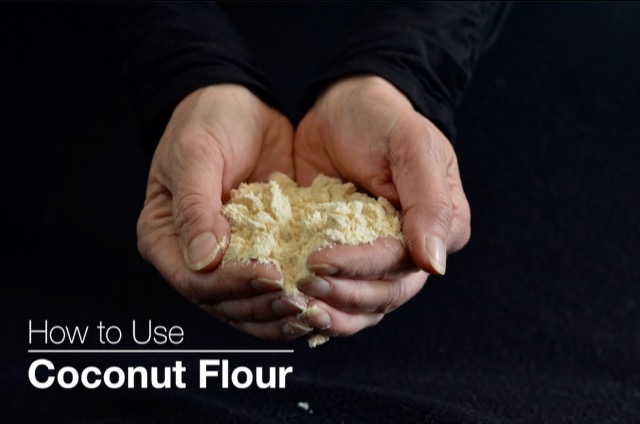 Now, after writing nine posts in this series I took another look at it. To be honest I will probably not do a lot of baking with coconut flour. I'm not personally trying to eat more baking (when I bake it, I eat it). My goal is to help you find your go-to recipes for everyday life and to increase your confidence to try new recipes.
The Benefits
There are health benefits to using coconut. This is not my area of expertise but I know many people with celiac disease and gluten related disorders work with dieticians and specialists to improve their gut health. It takes effort but when I talk to people who have succeeded I can hear it in their voices that it was worth the effort. After all, we are what we eat.
The most obvious benefit is the high fibre content, celiacs are always looking for more fibre. It has more than double that of many other flours with 10 grams of fibre per ¼ cup of coconut flour. Using a few tablespoons in some of your regular recipes is an easy way to try it out.
If this topic interests you Gretchen at All the Love, Without the Wheat created this helpful chart. It compares carbs, fibre and protein in several gluten free flours.
Using Coconut Flour
Properties
Grain free and nut free
High in fibre
Faint taste of coconut that can be highlighted in recipes with coconut or masked in recipes using cocoa and chocolate
May be helpful for a diabetic diet
Many recipes rely on extra egg to create structure
Cons
Absorbs lots of liquid in baking so does not substitute well in recipes that were not written for this flour.
Should be stored in an air tight container as it tends to absorb moisture. Ideally stored in the fridge or freezer.
Expensive compared to other gluten free flours but Shirley over at 

Gluten Free Easily

 reminded me that cost is relative. She keeps her coconut flour in the freezer and when a recipe calls for it she has it on hand.
Does not behave like a typical flour and presents unique challenges in baking – so just be up for the challenge and you'll learn something.
Best Uses
Pancakes, muffins, brownies and cupcake recipes specifically written specifically for this flour
Use up to 20% coconut flour in a gluten free flour blend
Works well with mild flours like millet, white rice and almond flour
Buying Coconut Flour
Coconut flour is so common now it is available in most grocery stores and online I see that both Anthony's and Terrasoul advertise their coconut flour as gluten free.
The Recipes
I'm just experimenting with coconut flour. During the process of writing this series I have become more adventurous. I am trying all kinds of flours, two to four tablespoons at a time, in many of my tried and true recipes. You might want to try this approach with any neglected flour in the back of your cupboard.
My basic Banana Muffin recipe is my go-to for experimenting. I swapped 2 Tbsp of flour for coconut flour and the recipe worked as usual. I was surprised that I could recognize the faint coconut taste. If you are a fan of coconut add ¼ cup grated coconut to this recipe and call them Banana Coconut Muffins.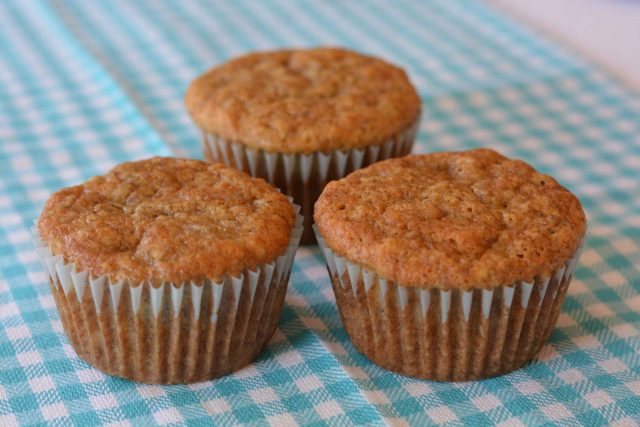 If you are inspired to bake with coconut flour there are bloggers out there who have loads of experience incorporating it into their diets. For best results they generally recommend trying recipes that were created for the unique properties of coconut flour.
Happy Baking!
This is the tenth in a series of blog posts on gluten free flours. My intention is to provide a basic overview of several gluten free flours for the everyday home cook, both new and experienced. Let me know in the comments below if you have a specific problem with your baking or a tip you'd like to share.
---
How To Use Gluten Free Flour series:
How To Use Coconut Flour