How To Use Coconut Flour is number ten in my 12-part series on the properties and best uses for gluten free flour. You can see the full list at the bottom of this page.
Gluten free cooks have an overwhelming amount of choice when it comes to buying individual flours but it's work to find out how to use them. It took me a few years of gluten free baking before I asked myself, "what is the best use for each of these flours?"
As I got toward the end of this series, I had to take another look at coconut flour. I had discounted it pretty early on after making a few forgettable recipes. The bag sank to the bottom in my bucket of forgotten flours and was eventually moved to the freezer because I just didn't know how to use it.
The goal for this blog is to help you learn to bake the foods you love and most of you can do that without coconut flour. Yet it has health benefits and people need options for dietary needs and personal preferences.
Learning to substitute and having a good selection of flour in your pantry means you can bake and learn. Otherwise you're always passing over recipes because there's a flour you don't have.
Can I Substitute Coconut Flour for a Gluten Free Flour Blend
No. The unique properties of coconut flour means it cannot be substituted for wheat flour or gluten free flour in most recipes. Experienced gluten free cooks will tell you right up front that coconut flour sucks the liquid out of everything. You actually need to "learn" how to use it.
PIN for later...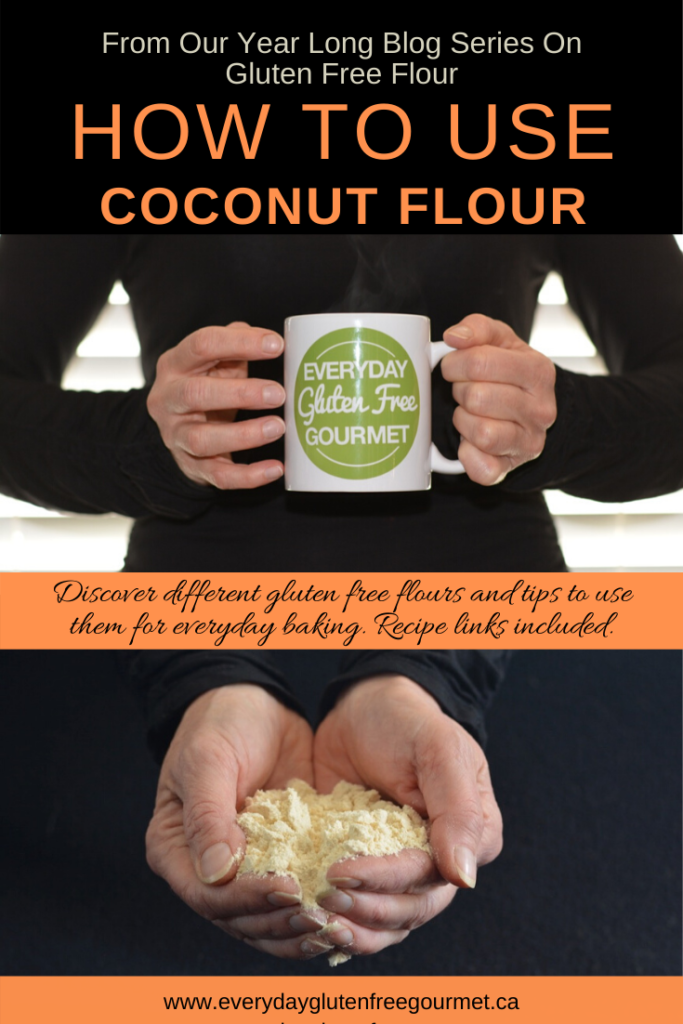 Health Benefits of Coconut Flour
There are health benefits from coconut but this is not my area of expertise. People with celiac disease or gluten related disorders should work with a dietician to improve their gut health. It takes time and effort but many of you have succeeded and are happy to share their stories.
We are what we eat.
Briefly, the most obvious benefit of coconut is it's high fibre content. Almost half of the people with celiac disease do not get enough fibre. There are 10 grams of fibre per ¼ cup of coconut flour, double the amount of many other gluten free flours.
Gretchen over at All the Love, Without the Wheat created this helpful chart comparing carbs and protein in gluten free flours.
Like I said I'm not the expert here. If you simply want to try more recipes with fibre check out this post, 33 High Fibre Gluten Free Recipes.
How To Use Coconut Flour
Properties of Coconut Flour
Grain free and nut free
High in fibre
Faint taste of coconut that can be highlighted in recipes with coconut or masked in recipes using cocoa and chocolate
May be helpful for a diabetic diet
Many recipes rely on extra egg to create structure
Absorbs lots of liquid in baking so does not substitute well in recipes that were not written for this flour.
Tends to absorb moisture so should be stored in an airtight container, ideally in the fridge or freezer.
More expensive than other gluten free flours. My friend Shirley, over at Gluten Free Easily, taught me to keep it in the freezer so there's no concern about the expiry date.
Does not behave like other flours so requires learning about the unique differences in baking.
Best Uses
Pancakes, muffins, brownies and cupcake recipes specifically written specifically for this flour
Use up to 20% coconut flour in a gluten free flour blend
Works well with mild flours like millet, white rice and almond flour
Where To Buy Coconut Flour
This flour is fairly common now and can be found at many grocery stores. Online I see that both Anthony's and Terrasoul advertise their coconut flour as gluten free.
Watch How To Use Coconut Flour on YouTube
The Recipes
I just experiment with coconut flour. During the process of writing this series I started trying it in muffin and pancake recipes. That always feels safe to me and I haven't made a muffin I couldn't eat in years. Here's how I do my experi-baking.
In my basic Banana Muffin recipe I first swapped only 2 tablespoon of the total amount of flour with coconut flour. The recipe worked as usual and I was surprised I could recognize a faint coconut taste. Now I use ½ cup, and often add some grated coconut, for a tropical Banana Coconut Muffin. I did this without increasing the egg or adding liquid and it works well.
Morning Glory Muffins have coconut so they are another recipe to experibake with.
More Resources
If you're inspired to bake with this challenging flour there are bloggers who have loads of experience incorporating it into their diets. For best results they generally recommend trying recipes that were created for the unique properties of coconut flour.
Here are some links to learn more.
Happy Baking!
Originally posted 2018, updated December 2022.
If you're new here follow along and get your FREE resource, 29 Tips for Cooking with Gluten Free Flour.
How To Use Gluten Free Flour series:
This is the tenth in a 12-part series on gluten free flours. My intention is to provide a basic overview of several gluten free flours for the everyday home cook, both new and experienced. Let me know in the comments below if you have a specific problem with your baking or a tip you'd like to share.
Coconut Flour