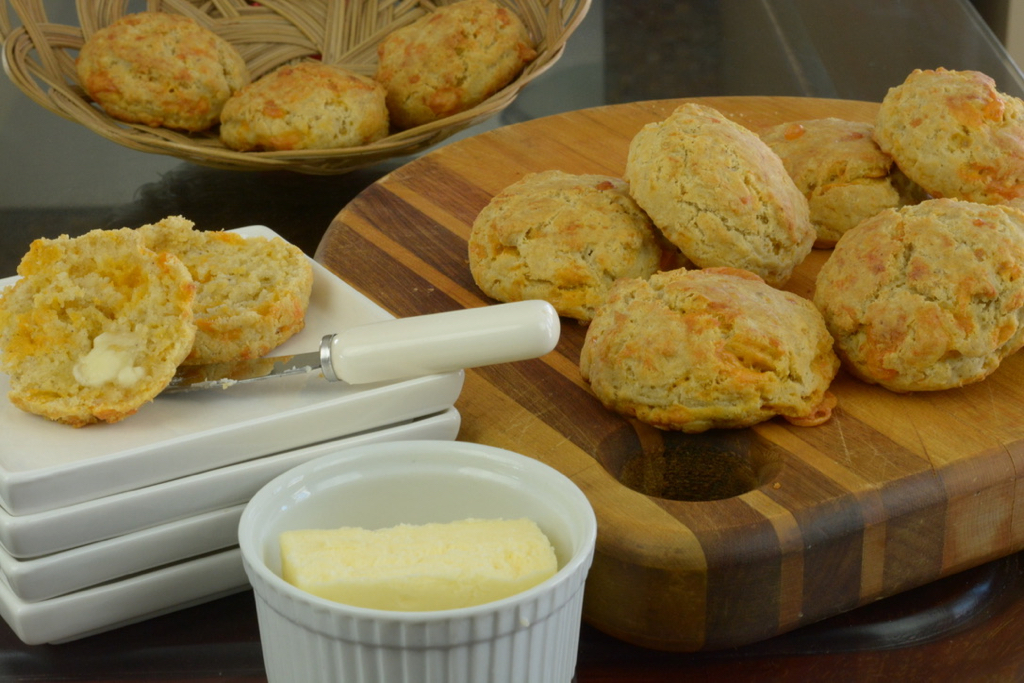 Description
My gluten free Cheese Biscuits are tender and have the tang you'd expect from a buttermilk biscuit even though it comes from yogurt. In my books biscuits are best eaten the day they're made and they should be soft and tender. Back in the day my mom whipped them up without a recipe and she made them often. Whether they were for a weekend breakfast or to go with a bowl of chili con carne for dinner she loved them and so did I.
If you've baked a few gluten free recipes you've probably realized there's no perfect. Someone recommends a mix or a flour blend that's perfect for everything, but you try it and think it doesn't work or tastes off. Everyone's taste buds are different so pay attention to your own taste and just keep baking.
At my cooking classes I remind people to start with recipes written for gluten free, like this one. Then make adjustments or experiment with different flour blends to get the taste you're looking for. This will be faster than substituting different flour blends in your old tried-and-true recipes. Here's why.
The New Basics For Gluten Free Bakers
My trustworthy source for baking is the cookbooks from America's Test Kitchen. Here are three points I've learned from them that will help you as you learn to tweak your own recipes.
Gluten free flours don't absorb liquid as fast as wheat flour does. Two adjustments are to let the dough rest and to replace butter with a combination of butter and oil.
The structure of baked goods continues to form as they cool so wait 10 or 15 minutes before eating your biscuits. Better yet do the taste test and see for yourself. When hot the texture is a bit gooey and they seem under done. When just warm they should be perfect.
Gluten free baking doesn't stay fresh the same way baking with wheat flour does. Biscuits are meant to be eaten fresh but since that's not always practical be sure to wrap them as soon as they are completely cool. They can be frozen too.
PIN Cheese Biscuits for later…
This post contains affiliate links. When you purchase using these links your cost is the same, but I receive a few cents for every dollar spent. I appreciate your support for this website.
The Gluten Free Pantry
Psyllium husk powder is an ingredient used in gluten free baking, especially for yeast breads. When I was new to gluten free at some point I hit a wall. I just didn't want to buy one more gluten free ingredient.
I confess that it did take me years to be convinced I should try it. It's not expensive and it's not hard to find so it was all in my head. If you're unsure whether you should buy it just go and get it. Then you can use this recipe to make plain biscuits, cheese biscuits, biscuit cinnamon rolls, strawberry shortcake and maybe a biscuit pizza.
If you're not ready to make another purchase, you can try my older recipe called Buttermilk Biscuits. It calls for individual flours and starches from my earlier days before I found a blend that worked for the kind of cooking I like to do. That was also before I gave in and bought psyllium husk powder. I think I like this recipe better but some of my readers love the old one. That's the reason you've got to bake for yourself and find what you love. I promise you, it's out there.
Get The Tools – Cheese Biscuits
Every kitchen needs a few basic tools and cheese biscuits will be one of many recipes you make with these items. Here's what I use.
Let me know in the comments below what you thought of these biscuits and if you made any adjustments.
---
More Recipes – Biscuits
Click on the (hard to read) text on the image to go to the recipe/blog post.
Ingredients
DRY INGREDIENTS
2 cups gluten free flour (I use my EGFG flour blend*)
4 tsp baking powder
1½ tsp psyllium husk powder
1 tsp sugar
¼ tsp baking soda
½ tsp salt
3 Tbsp butter, chilled and cubed
WET INGREDIENTS
¾ cup plain yogurt (I use 6% Greek yogurt)
1 egg
2 Tbsp vegetable oil
2 tsp lemon juice
CHEESE – 1 cup shredded or crumbled cheddar cheese
Directions
1

Line baking pan with parchment paper.

2

In a large bowl whisk together flour, baking powder, psyllium husk powder, sugar, baking soda and salt.

3

Rub the butter into the flour mixture (I use my fingers) until all the pieces are smaller than a pea.

4

In a measuring cup measure yogurt then add egg, oil and lemon juice. Whisk together.

5

Stir yogurt mixture into flour until evenly mixed. Add cheese and finish stirring.

6

Let rest at room temperature for 30 minutes.

7

Preheat oven to 425°F.

8

Using a 3-inch portion scoop or a lightly greased dry measuring cup (⅓ cup) portion shape the into biscuits directly onto the pan. Alternately, you could roll the dough into a rectangle and cut it into squares.

9

Bake in preheated oven until nicely browned, 15-18 minutes. The structure will continue to form as they cool so wait 10 minutes before eating them if you can.

10

*My EGFG flour blend is 300g sweet rice flour, 300g potato starch, 200g sorghum flour, 200g millet flour