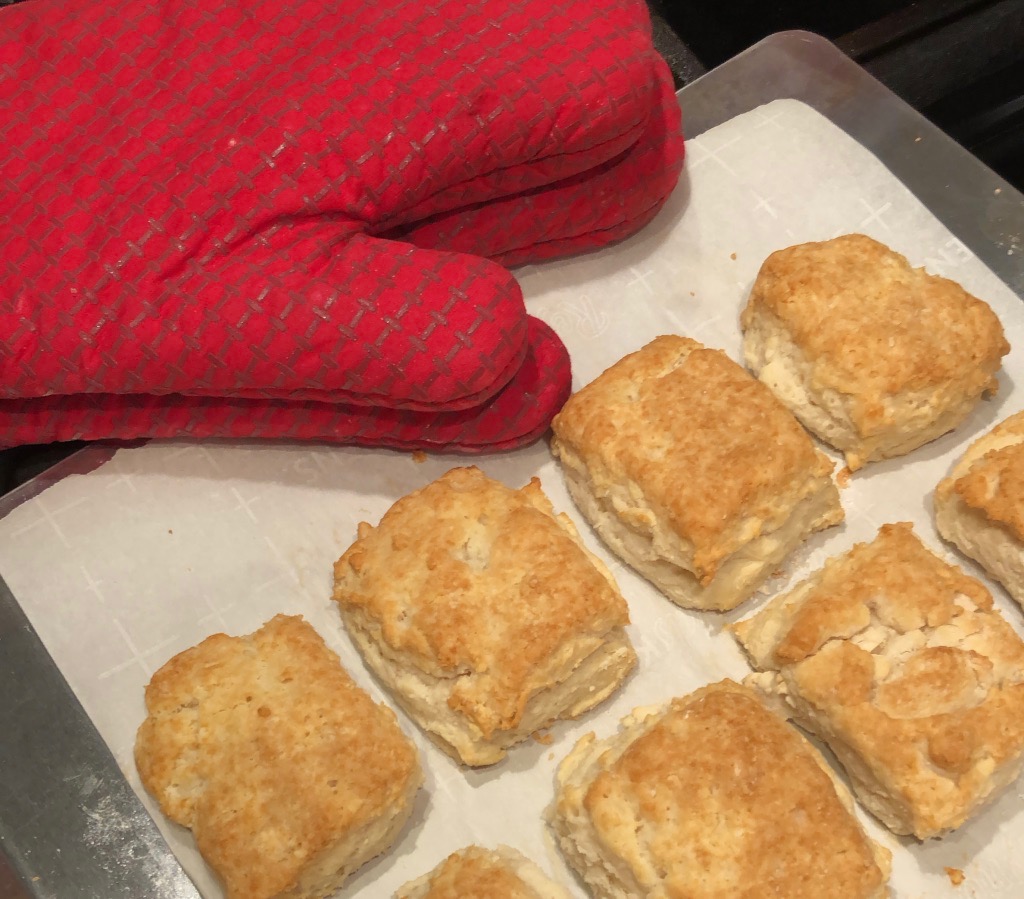 Description
Everyone loves old fashioned Buttermilk Biscuits and these will not disappoint. This recipe calls for a combination of flour and starch but it's the perfect biscuit taste for me. It reminds me of the fluffy white biscuits my mom always made, whipped up in minutes and served right out of the oven.
My mom also said biscuits were best eaten with an-inch-of-jam! I prefer mine with a swipe of butter while still warm but you can eat them anyway you like. However, the perfect biscuit does need to be cooked fully. In my cooking class called Understanding How To Use Gluten Free Flour we talk about getting this right in your own kitchen. I teach what I call the New Basics of gluten free baking and this is one of those tips; gluten free baked goods need more cooling time than things made with wheat flour. Who knew, right?
If you taste your baking too soon out of the oven it may be gummy and seem under done. If you wait, just a few minutes, you might have the perfect recipe and you didn't even know it. Here's my best advice to new gluten free bakers:
Get in the habit of using a kitchen timer and learn how long different recipes need to cook in your oven.
If your baking browns on the bottom too quickly, double up the pan next time instead of decreasing your oven temperature.
Taste your biscuits right out of the oven, after 5 minutes and again after 10 minutes. You decide how many minutes you should wait to enjoy warm biscuits that aren't gummy.
Variations For Buttermilk Biscuits
The variations for biscuits are only limited by your imagination. Make them sweet or savoury and get creative. Try a biscuit pot pie baking them right on top of stew or a biscuit pizza. Add some pesto sauce and cheddar cheese for an appetizer biscuit or you can make a sweet version. Add raspberries and white chocolate chunks, blueberries and lemon zest and on and on.
Gluten Free Flour Blend vs Measuring Individual Flours
Biscuits made with wheat flour would typically have just a few ingredients. This gluten free recipe calls for five flours/starches and that's exactly why so many people prefer to cook with gluten free flour blend. As I learned more about gluten free baking and started collecting recipes I too found a blend that I now call my EGFG flour blend. This blend works in my favourite muffins, pancakes, waffles, brownies and even some cookie recipes.
However, there is no single blend that works in all recipes and this is the ongoing dilemma for gluten free bakers. If you're adventurous you can try this recipe with any flour blend. I'm happy cooking with my blend, trying new blends if someone gives me one, and making recipes that call for individual flours and starches. I figured out a system to store the many ingredients needed to bake gluten free so I'll keep making this recipe just as it's written.
PIN for later…
This post contains affiliate links. When you purchase using these links your cost is the same, but I receive a few cents for every dollar spent. I appreciate your support for this website.
Get The Tools – Buttermilk Biscuits
Every kitchen needs a few tools and these are what I use for baking biscuits in different shapes and sizes.
Let me know in the comments below if you tried this recipe or a variation of it.
Originally posted March 2015, updated June 2021
---
More Recipes – Variations for Biscuits
Click on the text on the image to go to the recipe/blog post.
Buttermilk Biscuits
These fluffy, gluten free Buttermilk Biscuits are perfect with soup or on their own. It might just be that taste you've been missing.
Ingredients
DRY INGREDIENTS
1

cup

tapioca flour

(140g)

½

cup

sweet rice flour

(60g)

½

cup

white rice flour

(60g)

½

cup

potato starch

(80g)

½

cup

cornstarch

(70g)

1½

tsp

xanthan gum

4

tsp

baking powder

1½

tsp

baking soda

1

tsp

sugar

1

tsp

salt
WET INGREDIENTS
5

Tbsp

cold vegetable shortening, cut into cubes

(70g)

4

Tbsp

cold butter, cut into cubes

(56g)

1½

cup

buttermilk
Instructions
Preheat oven to 425°F. Line a baking sheet with parchment paper.

Combine dry ingredients in a medium bowl and stir to mix evenly.

Put dry ingredients in a food processor with a pastry blade. Add the butter and shortening and process to a coarse mixture. This can also be done by hand with a pastry cutter.

Add buttermilk and process or stir until combined. It will be a wet, sticky mixture. Proceed using one of the following 3 methods.
DROP METHOD
Grab some dough with a large spoon and use the back of another spoon to 'drop' the dough onto the baking sheet placing them about 2-inches apart.
SCOOP METHOD
Using a portion scoop measure dough and release onto prepared baking sheet about 2-inches apart.
CUT METHOD
Turn dough onto prepared baking sheet and shape into a rectangle or circle with your hands. Use sweet rice flour if needed to work with the dough. Cut into rectangles or triangles using a spreader or knife. Separate biscuits slightly before baking.
BAKING
Bake in 425°F oven 12-15 minutes until bottom and top are nicely browned.* Let cool on the baking sheet for 2 minutes then transfer to a wire rack to cool completely at least 10 minutes.**

For a softer biscuit place them close together, for more of a crust on the sides place biscuits 2 inches apart.
Notes
*If your baking browns on the bottom but is not cooked through double up the pan next time.
**Gluten free baked goods require a longer cooling time for the structure to form. The best way to learn how long your baking needs to cool it to taste it. If it tastes gummy or under done wait 5 more minutes and taste it again. Keep good notes!