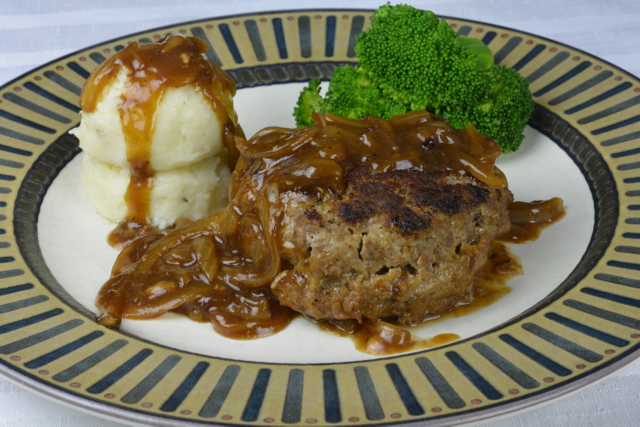 Description
According to Wikipedia, Dr. Salisbury, an early proponent of a low-carbohydrate diet for weight loss, invented Salisbury Steak. That was over a hundred years ago yet this simply seasoned ground beef with gravy is still a popular everyday dinner today.
Salisbury Steak isn't comfort food for me since my mother never made it. But it is a favourite comfort food for my husband. Personally, I think people like Salisbury Steak because of the gravy. It's always about the gravy.
This post contains affiliate links. When you purchase using these links your cost is the same, but I receive a few cents for every dollar spent. I appreciate your support for this website.
Gluten Free Gravy
Fortunately for gluten free cooks there is more than one way to thicken gravy. I generally use cornstarch but my Ancho Chile Gravy, that I serve with turkey, is thickened with masa harina. These are both staples in my kitchen so I can make gravy any time I want.
Cornstarch vs Wheat Flour
Wheat flour has very specific properties. Replacing it requires some basic knowledge about the ingredient used as a replacement. Wheat flour is typically sprinkled over melted fat in a pan and this makes a roux. It cooks for a few minutes to get rid of the raw flour taste, then liquid is added and the sauce slowly thickens.
Cornstarch works differently. It is best made into a slurry, a simple mixture of equal parts cornstarch and cold water. I use any small dish and a mini whisk for this job. The slurry is then added to the hot liquid and it thickens quickly. You must stir the mixture as soon as you add it to prevent lumps. It is then ready to eat within minutes.
You can make a sauce too thick so be careful. If you are experimenting I suggest you add half the cornstarch slurry, see how thick your sauce gets, then add more if needed.
Cooking Sherry – A Pantry Essential
I listed sherry as an optional in this recipe since I know everyone doesn't keep it in their kitchen. I use it in many Asian recipes and as a substitute in any recipe calling for Chinese cooking wine, sake or mirin. The beauty of sherry is that I can buy it at any liquor store. My brand is W&H Dry Sack sherry and I have a big bottle (26 oz/750 ml) in my liquor cabinet. If you buy it for the Salisbury Steak you can also use it in these recipes.
Let me know in the comments below if you made this and how the gravy worked for you.
---
More Gravy Recipes
Ingredients
BEEF PATTIES
1 lb lean ground beef
1 egg
¼ cup GF breadcrumbs
1 tsp GF Worcestershire sauce
½ tsp onion powder
½ tsp garlic powder
½ tsp salt
¼ tsp pepper
ONION GRAVY
1 Tbsp vegetable oil
1 large onion, thinly sliced
1½ cups GF beef stock (I prefer unsalted)
1½ Tbsp sherry (optional)
2 Tbsp cornstarch mixed with 2 Tbsp water
salt and pepper to taste
Directions
1

In a large bowl gently mix beef, egg, breadcrumbs, Worcestershire sauce, onion powder, garlic powder, salt and pepper.

2

Divide into 3 or 4 portions and shape into large patties. They will shrink when cooked so can be shaped fairly large.*

3

Heat oil in large frying pan over medium-high heat.

4

Add patties and cook until nicely browned, about 4 minutes.

5

Flip patties over and add onion. Continue cooking until patties are browned on both sides. Leave onion in the pan and transfer patties to a plate. Cover with foil while onions continue cooking.

6

Stir onions occasionally, scraping up brown bits on the bottom of the pan. Cook until softened, about 10 minutes total.

7

Add beef stock and sherry.

8

While stock is heating, whisk cornstarch and water together in a small bowl.

9

Pour cornstarch mixture into pan and stir immediately until sauce thickens, 1-2 minutes.

10

Return beef patties to the pan, reduce heat to low and cook for 10-15 minutes until the meat is cooked through.

11

Taste and adjust for seasoning.

12

THICKENING GRAVY – Thicken the gravy before or after you add the meat and decide which method you prefer.

13

***This recipe can be done as meatballs. Make them any size you like and adjust cooking time accordingly.