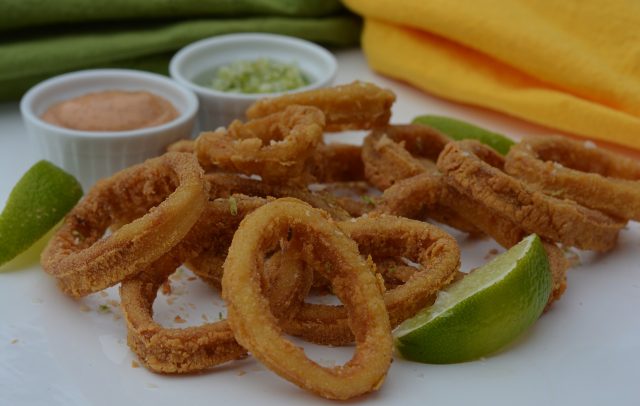 Description
Making calamari at home can be a fun thing to do with family or friends. It is a popular appetizer on restaurant menus and even kids love it. Making calamari gluten free is easy and this recipe uses two flours I already have in my kitchen. Corn flour and masa harina (the same flour I use to make corn tortillas).
But making it gluten free isn't the hard part. For those of us who live far from the ocean squid just isn't the first thing you think of when serving an appetizer at home. So you need to know where and how to buy it. Then how to cook it (trust me, it's easy) and lastly, you need to have a set up for deep frying.
PIN for later…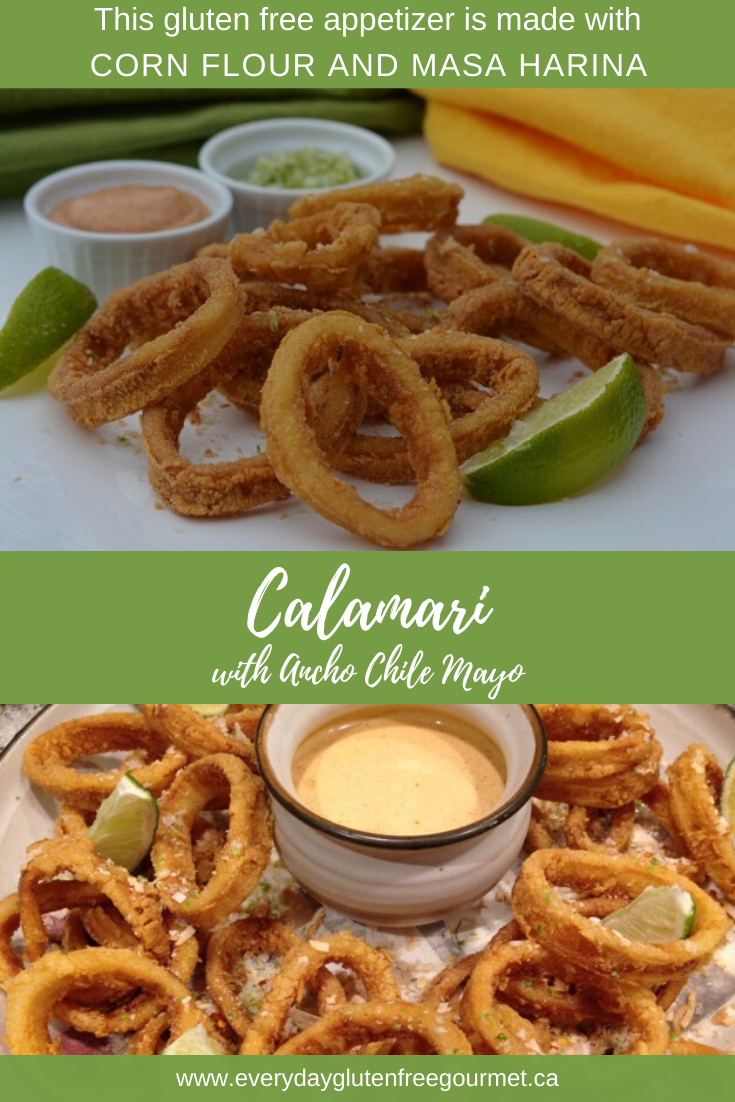 This post contains affiliate links. When you purchase using these links your cost is the same, but I receive a few cents for every dollar spent. I appreciate your support for this website.
How to Buy Calamari
Squid are found worldwide and fried squid in popular in many coastal cultures around the world. Calamari is the Italian word for squid, but it also refers to a specific type of squid. Calamari is said to be the most tender species of squid.
I had great fun gutting, cleaning and preparing whole squid at the Sydney Seafood School this summer. But doing it once was enough fun. Back at home I buy frozen, cleaned squid tubes and there is no mention of the type of squid. They are easy to find at seafood shops and many grocery stores so get some in your freezer and you're half way there.
Simply thaw the squid tubes and slice into rings. It's that easy.
Cooking Calamari
There are two ways to cook squid; quickly on high heat or low and slow. Deep-frying is the quick method. Pre-soaking the rings in milk before cooking is one way to get nice tender calamari so plan accordingly.
Get The Tools for Deep Frying – Wok vs Deep-Fryer
I deep fry in my wok. Many years ago I created a set up for deep frying in my wok and I still use it today. Even though I have a bigger kitchen with space for a deep fryer my old system works for me so I'm not changing it. It feels like I don't deep fry often enough to bother buying a deep fryer but you decide what's best for you.
A flat bottom wok is perfect for deep-frying and is excellent for all sorts of Asian cooking from stir-frying to steaming. I couldn't live without it. In my kitchen the wok lives in the cupboard just above the fridge so it's convenient to grab when I need it.
A wok gets wider as it goes up so requires less oil than a frying pan or large pot. My wok came with a long-handled wire strainer but a slotted spoon also works to turn and remove food from the hot oil. A deep frying thermometer is a helpful little tool for occasional use. They are inexpensive and easily clips onto the rim of a wok.
Organize For Success – The Clean Up
After you enjoyed your deep-fried calamari, or whatever you made, the oil will be cooled enough to put it away. I set a 4-cup pyrex measuring cup into the sink making it easier to pour the oil into and it's no big deal if it spills. I set a strainer over the measuring cup to catch any bits of food in the oil. Depending on the temperature of the oil I might leave it in the cup to cool completely or just get the job done.
I put the oil back into the jug it came in, usually a 2-litre or 3-litre jug. With a steady hand you can pour right from the measuring cup or use a funnel if that works better for you. Then, using a permanent marker, I write DEEP FRYING in large letters across the label. To avoid mixing up my clean oil and oil for deep frying I store the jug at the back of a different cupboard. I reuse the oil a few times over six months or so then I throw it out.
Deep-frying doesn't need to be a daunting task, but you do need a system that works for you. I find some things are easier to grab from the basement rather than digging around to find them in the back of my cupboards so you need to figure that out. Create a system that makes sense to you because the effort you put into it will pay off for years to come.
Let me know in the comments below if you made this deep-fried calamari and how it turned out.
---
More Deep-Fried Recipes
Click on the (hard to read) text on the image to go to the recipe/blog post.
Calamari with Ancho Chile Mayo
Making calamari at home can be a fun activity with family or friends. It's a popular appetizer on restaurant menus and even kids love it.
Ingredients
CALAMARI
4

frozen squid tubes, thawed, sliced into ½" rings

½

cup

milk

½

cup

corn flour

½

cup

masa harina

oil for deep-frying

FINISHING – coconut, lime salt and ancho chile mayo
COCONUT
¼

cup

toasted coconut

(optional)
LIME SALT
2

Tbsp

sea salt

zest of 1 lime
ANCHO CHILE MAYO
½

cup

mayonnaise

1

Tbsp

lime juice

½

tsp

ancho chile powder

salt to taste

GARNISH – lime wedges