How to use millet flour and sorghum flour is part of my monthly blog post series on baking with gluten free flours. Although the science of baking may be interesting my goal is to share just enough information to help the everyday home cook. This may be to improve your current results, increase your confidence when substituting ingredients or maybe even inspire you to try something you haven't tried before.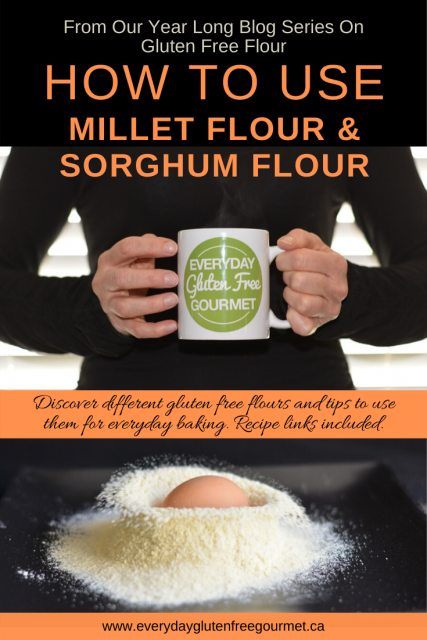 Why did I choose millet flour and sorghum flour? Great question.
The number of gluten free flours available is mind-boggling. I started my series with the commonly used rice flours followed by the starches. I felt I should combine the flours since the list is long and getting longer all the time (have you heard of coffee flour and banana flour?). I chose millet flour and sorghum flour because they are both in my gluten free flour blend.
When I started gluten free baking I had never heard of these two flours. I tried many different recipes and used new flours with no particular knowledge of their properties. I had numerous disasters and ruled out a few flours (soy flour YUCK!). For me gluten free baking is never ending learning but I can now make fabulous baked goods at home without knowing it all and so can you.
This post contains affiliate links. When you purchase using these links your cost is the same, but I receive a few cents for every dollar spent. I appreciate your support for this website.
Eventually millet flour and sorghum flour made their way into my kitchen. I started to make my own gluten free flour blend and over time my baking improved. Now I pay more attention to specific flours and combinations, I know what instructions not to ignore and I can choose new recipes more wisely.
Gluten Free vs Grain Free
Millet flour and sorghum flour are both grain flours. Not everyone can tolerate all grains and grain free recipes are now easy to find. If you bake with grain flours then you can use both millet flour and sorghum flour. The journey to improving your gut health is individual but if you are still struggling you may want to investigate grain free baking. For gluten free bakers, whether you are celiac or not, the ability to choose recipes and substitute flours is a worthwhile skill.
Baking with Millet Flour
PROPERTIES
Easily digestible grain flour
Mild, sweet, nutty taste that works in savoury and sweet recipes
Adds delicate, cake-like crumb to baked goods
Helps build structure in dough
High calcium content, 10% protein
BEST USES
CONS
More than 15-20% in bread recipes decreases volume and results in coarse, mealy texture
More than 20% in muffins and quick breads leaves a starchy taste
Consuming large amounts of millet is not recommended for people with thyroid concerns
Baking with Sorghum Flour
PROPERTIES
Mild, sweet flavour and a smooth texture
Works in savoury and sweet recipes
Helps bind moisture and increase CO2 bubbles formed during bread making
Rich in iron and fiber, 12% protein
Sold as sorghum flour or sweet, white sorghum flour
BEST USES
Breads, quick breads and muffins
As part of a gluten free flour blend
Can be used as a substitute for oat flour
Used to make beer (which I have never done…but just so you know)
CONS
More than 30% sorghum causes a slightly sour taste and dry mouthfeel
Should be stored in fridge or freezer
Buying Gluten Free Flour
Bob's Red Mill sells both millet flour and sorghum flour online. I can also find millet flour at the Asian grocery store near me, the brand is Watson. I find sorghum flour at local stores selling organic food.
Millet Flour & Sorghum Flour – The Recipes
This Crusty Bread is made with sorghum flour but no millet flour.
Happy Baking!
---
This is the third in a series of blog posts on gluten free flours. My intention is to provide a basic overview of several gluten free flours for the everyday home cook, both new and experienced. Let me know in the comments below if you have a specific problem with your baking or a tip you'd like to share.
How To Use Gluten Free Flour series: