How to Use Binders is 6th in my blog post series about gluten free baking. If you have been reading a bit you already know that gluten free baking is all about the magic (or science) of what happens with protein and starch. Binders play a small but important part in this magic.
The three most commonly used binders in gluten free recipes are xanthan gum, guar gum and psyllium husk. You don't need to understand the science of these ingredients to use them but a little bit of knowledge may improve your gluten free baking and result in more happiness in your kitchen.
The Science of Gluten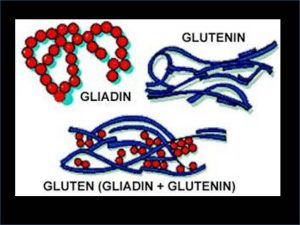 The main protein strands in wheat flour, glutenin and gliadin, are wrapped around starch granules. When water is added these strands unwind and connect to form a network called gluten. The ingredients used in gluten free baking are to create a similar network without gluten.
PIN for later…
This post contains affiliate links. When you purchase using these links your cost is the same, but I receive a few cents for every dollar spent. I appreciate your support for this website.
What Are Binders?
As the name implies binders bind protein and starch molecules together to give structure to baked goods. Gluten free flours are not capable of forming the network for this structure. Binders are therefore used to create and strengthen the protein networks in the different flours used in gluten free baking.
Sometimes referred to as the glue that holds everything together, binders help to prevent your muffin or slice of bread from falling apart when you touch it.
Xanthan gum
PROPERTIES
Xanthan gum is commercially used as a thickener and stabilizer in ingredients from toothpaste to salad dressing. For the gluten free baker it plays two important roles; 1) it helps create structure to baked goods, 2) it extends the freshness of baked goods.
Not everyone can tolerate xanthan gum. Guar gum is a reasonable substitute yet some people prefer to bake completely gum-free.
It has a shelf life and is best stored in the fridge or freezer.
BEST USES
All gluten free baked goods.
Guar Gum
PROPERTIES
Made from guar seeds, this powder is high in fiber and is used as a laxative.
Like xanthan gum it adds structure to baked goods.
Imparts a slightly starchy texture to baked goods.
According to America's Test Kitchen cookbook, How Can It Be Gluten Free, guar gum does not perform as well as xanthan gum. They do more extensive testing than any home cook could ever do so I'm happy to follow their recommendation and use xanthan gum in my recipes. If you don't like or can't tolerate xanthan there is lots to learn in these two resources; The How Can It Be Gluten Free Cookbook and Vol 2 The How Can It Be Gluten Free Cookbook.
BEST USES
All gluten free baked goods.
Psyllium Husk Powder
PROPERTIES
Psyllium is a major component in laxatives. Sometimes called psyllium husk powder or powdered psyllium husk, it has a high viscosity so is able to bind water more effectively than xanthan gum.
It creates a sturdy network with the proteins in gluten free flours and adds a wheat flavour to baking that works well in yeast breads.
The wheat flavour in not desirable in baked goods like muffins and cookies.
A larger amount is required and this volume does not work in many gluten free baked goods.
BEST USES
Yeast breads and pizza dough.
Watch How To Use Binders on YouTube
Where To Buy Gums for Baking
Gums can all be bought where you find gluten free flour at grocery stores and health food stores.
Both Bob's Red Mill and Judee's sell xanthan gum and guar gum online.
Healthworks and Viva Naturals sell psyllium husk powder online.
Is There A Binder in My Gluten Free Flour Blend?
Adding the exact amount of xanthan gum needed to each recipe will yield the best results. For this reason a gluten free flour blend, homemade or store bought, is best without a binder. More importantly, you need to know if your blend has one.
Read the label to learn that. If it doesn't have a binder then a good rule of thumb is to add ¼ teaspoon of xanthan gum for every 1 cup of gluten free flour. This also changes depending on the type of recipe you're making but it's a great place to start.
The Recipes – How to Use Binders in Gluten Free Baking
Although I have tried several muffin recipes without using a binder, xanthan gum is used in the majority of my recipes. Here is a selection by category:
Muffins, Quick Breads, Cakes, Pancakes and Waffles
Pastry
 Cookies
Savoury Foods
Happy Baking!
---
This is the sixth in a series of blog posts on gluten free flours. My intention is to provide a basic overview of several gluten free flours for the everyday home cook, both new and experienced. Let me know in the comments below if you have a specific problem with your baking or a tip you'd like to share.
How To Use Binders in Gluten Free Baking